How to Unlicall and Text in Smart
posted by: Rio Dianne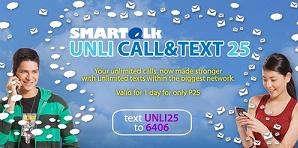 In the Philippines, the latest trend when it comes to mobile communication is the availability of unlimited call and unlimited text. Sun Cellular and Globe Telecom have it, and of course Smart Communications, Inc. is not an exception.
Because Smart wants their subscribers to enjoy endless calling and texting, they also have their fair share of unlimited call and text. How to unlicall and text in Smart, you ask? Learn more on how to do so.
Register to Smart's Unlicall and Text
The promo is named as Smart Unli25. With your 25Php/day, you will be able to make endless calls and texts to Smart/TNT/ and Red Mobile subscribers plus you get to have 20 texts to all networks. Registration is done via texting UNLI25 and sending it to 6406. The promo is valid for 1 day and a maintaining balance of 1Php is required to avail of the offer.
After you've registered to the promo, it's time to make use of it and start calling your friends. To do this, just dial *6406 and the subscriber's 11 digit Smart/TNT/ Red Mobile number (e.g *64060918xxxxxxx)
On another note, just recently, Smart debuted with unlimited calling and texting for the postpaid plan. With just 599Php per month, you'll be able to enjoy texting and calling for 30 days. Interested? Make sure to visit the nearest Smart Wireless Communications near you to learn more about the promo and other offers which fit you. But as far as how to unlicall and text in Smart, we hope that the abovemetnioned guide was of great help.
You might also like
How to Pasaload in Smart
The Smart Network in the Philippines makes it easier for its subscribers to communicate with their loved...