Medifast Diet Plan – How It Works
posted by: Gretchen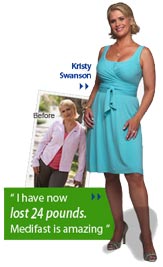 Deciding which weight loss program to take is pretty difficult. Why not?  They seem to have the same plans, ways, and strategies.  They only differ in some extent like price, approach, and marketing.  We only rely on testimonials and reviews.  We need to be cautious in choosing to attain our goal to loss weight.
I have made a post about the review of Jenny Craig and Nutrisystem.  This time we are going to deal with another program called Medifast Diet Plan.  It is sold by Jason Pharmaceuticals of Maryland.
What is Medifast Diet Plan ?
According to its official website, Medifast is a clinically proven program which is nutritionally balanced and portion-controlled that aims to help clients lose weight faster than traditional diet plans.  The meals from Medifast are available in individual packets which the client mix with water and microwave or refrigerate. The food choices include shakes, stew, soup, oatmeal, chili, hot beverages, fruit drinks, iced tea, scrambled eggs, puddings, bars, cheese puffs, and pretzel sticks.  The meals are very easy to prepare and are perfect for busy people who watch their weight.
How does Medifast Diet Work ?
Medifast uses a structured meal plan which features Medifast Meals. The recipes are designed with a combination of carbohydrates and protein allowing clients to lose weight but minimizing loss of muscle.  It has the so-called Medifast 5 & 1 Plan, their standard weight loss plan which creates a calorie deficit, letting your body to burn fat for energy or called ketosis.
How Much Does it Cost ?
Visit their website for the official list of prices.  For discounts clients can get Medifast coupon codes.  You can order through their partners like Amazon and Ebay.
Get ready to take shape for life with these diet programs.  You can also check reviews of other programs like Weight Watchers, Optifast, and Nutrisystem. Stay healthy and fit!
You might also like