How to Get a Flat Stomach after Pregnancy
posted by: Gretchen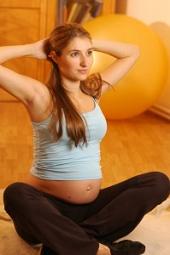 Having a flat stomach takes a lot of effort and patience. It's not easy to achieve it especially if you are really fat. This is even harder for women who have given birth.  Of course they find having a baby amazing but they can't help but wonder how they're going to get a tight belly after pregnancy. Staying in shape after delivery is one of the goals of women who are conscious of their body figure.  Flabby tummy is just disgusting for them!
We will try to help you get back in shape with the following tips.  Keep reading.
How You Can Flatten Your Stomach after Pregnancy
Increase your consumption of fruits and vegetables. Apples, pears, oranges, cauliflower, broccoli, carrots, and cucumber are great for you. Watery fruits and vegetables will make you feel full and make you eat less.
Walking is a good way to strengthen the core. Before you do strenuous exercises, do some walking first to avoid pain and complications. Get your heart rate up to 20 minutes a day.
For some women, stomach binding or wearing a belly wrap also helps to get your flat stomach back even after you had a c section.
If your doctor says you are ready to do some exercises then begin it with basic crunch.
Abdominal Exercises to Flatten Your Tummy
Abdominal crunches.  This is one of the best ways to help firm up the belly after pregnancy.  Put your hands behind your head with your knees bent. Your feet should be flat on the floor.  Now rise up slowly then lower your back.  You should feel your abs working when you do this. Do 2-3 sets for 20-25 repetitions.
Kegel Exercise.  This is very convenient as it can be done anywhere, anytime. Simply tighten your muscles as tight as you can. Hold the muscles for a count of 10.  Then slowly release them and relax for 10 seconds. Perform a set of 10 contractions for up to four times a day.
Oblique Exercises.  These are similar to crunches and work best to get abs.
If your body is ready enough to do some exercises, then go and do this abdominal exercises.  It would really help you you to flatten your stomach and bring your sexy body back!   Just make sure that you are not putting your overall health into risk.
You might also like