Top Culinary Arts Schools in Los Angeles
posted by: Gretchen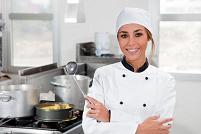 Culinary arts keep on becoming popular due to the growing interest of many people including professionals who already have careers in their chosen fields.  Some shift to the field of culinary.  Why not?  A successful career in this field can give you a satisfying gain in few years.  But there are those who are into this field because they are born with the passion to cook.  They just see for formal training and professional advancement to come up with better food recipes.
In my previous posts about culinary arts schools, I mentioned about the best schools in Canada, Singapore, Philippines, and United States of America.  Now, we are going to deal with the cooking schools in Los Angeles, California.  They are the following:
The Art Institute of California, Culinary Arts (Los Angeles): The programs offered in this school are hot industry based in 35+ United States cities.
Kidding Around the Kitchen: It provides cooking classes and demonstrations that can help you bring out the best in you in the field of cooking.
Chefs, Incorporated: It is a hands on cooking school that caters to party needs and other social gatherings. This is the way they help students.  They are exposed to the real world.
Chef Eric's Classroom: This is a school that offers professional and recreational cooking classes for every level of student.  It is more on pastry and baking.
Tips :
There more choices outside Los Angeles. You can try other schools within California like those in San Diego, San Francisco, Sta. Monica, and others.  Some of the best schools and colleges in the state are Kitchen Academy, California Culinary Academy, and Culinary Institute of America.  These names are also popular outside the country.  Do not just focus on Los Angeles.  They might have the highest tuition fees but the quality of education is incomparable.
I hope that this post helps you in a way or another.  Good luck!
You might also like