Best Culinary Arts Schools in France
posted by: Rowena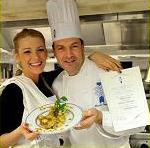 Maybe you would like to follow the footsteps of famous French Chefs, consider culinary schools in France that are regarded to have the best hands in terms of international cuisines.  Also, offering a great foundation for the popular programs in culinary.  They do not just teach you how to cook food, they got best recipes in their kitchens too, nevertheless, they have that amazing styles in cooking that makes every dish perfect for everyone's taste buds.
Top Culinary Arts Schools in France
Le Cordon Bleu.  It is known to produce the greatest chefs of all time.  This French academy is equipped with the best teaching methods as well as kitchen process, A well- organized school which is known all over the world. In here to get a diploma that serves your ticket to be a chef everywhere. They offer the highest and the best level of instruction on culinary and hospitality.  The programs that they offer are the following:
— Culinary Arts Diploma and Certificate
— Hospitality Managements Masters and Bachelors
— Masters in Gastronomy
Two Bordelias.  If you have been dreaming to reach the peak of success in terms of fine cuisine, try having this luxurious academy that is very satisfying for amateurs and professionals out there.  A Cookery School that offers or teaches traditional and modern ways of cooking.
Lenôtre University.  Also a top culinary school, a respective one, belonging to the most prestigious universities in France in terms of fine cuisine.  It takes pride of its new and updated ways and techniques in cooking.
Here are some of the best culinary schools in France.  Competition is greatest in the culinary world but if it's your dream to be a chef why not pursue it.  As the saying goes, if you believe it, you can achieve it.
You might also like