Best Culinary Arts Schools in the World
posted by: Gretchen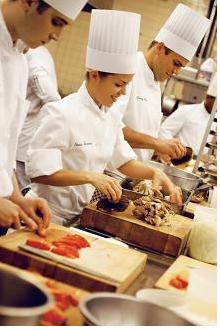 Realizing that you have the passion to cook food is such a wonderful thing. You can satisfy the stomach of people dear to you. But it is even more wonderful if you can turn it into a job that will give you great career opportunities.  Get educated and acquire the culinary skills that will bring you to the top.  Study at the best and top cooking schools around the world.
Best Culinary Arts Schools in the World
The Culinary Institute of America: It is the world's premier culinary college. If you get your degree here it will surely open doors to great career opportunities. Paul Bocuse, world-renowned French chef even said that it's the best culinary school in the world.
Le Cordon Bleu Schools North America: You will learn the specialized skills and techniques in a creative and supportive environment to pursue your dream of a professional culinary career. It offers one of the most intensive and comprehensive programs.  It started as the best cooking school in Paris, France.
The Art Institutes: This system of schools is a leading educator of students in the field of creative and applied arts which include media, design, fashion, and culinary programs.
The French Culinary Institute: They have what they call Total Immersion approach which means the students will get hands-on-training in small classes with experienced instructors.  They also offer short cooking classes.
L'Ecole Culinaire: It offers an excellent quality of education with a unique program structure which is based on ten-week phases rather than semesters or quarters.
Arizona Culinary Institute: Students can earn their diploma in 9 months.  Students will be trained by professional chefs and they will get hands-on experience at the school's restaurant run by students.
Culinary Academy: Students get the chance to be exposed to internships in the finest hotels and restaurants in New York.  You will get your diploma in 9 months.  The also offer programs in day, night, or even weekends.
Culinary Institute of Virginia: The students are geared toward mastering basic professional culinary skill.  They are also given hands-on training in real world settings.
Keiser University – Center for Culinary Arts: You will have the opportunity to work closely with students and instructors with the small classes. You will get all the necessary skills that you need to have a fine career in the field of cooking.
Strayer University: students will love this because it offers education that is budget-friendly plus a good quality of education.
California Culinary Academy: This school will turn you into a professional chef or a pastry chef with its industry-current equipment and techniques. The students will also be given relevant hands-on education that will surely help the students prepare for a professional career.
This list of the World's best cooking schools is made to serve as your guide in choosing the school that will help you realize your dreams in the field of culinary arts.  Be wise!
You might also like