Papaya, Carrots and Fried Fish Salad
posted by: Dennis Aguilar
Different flavors and aroma come together in this Asian-inspired salad.  Everyone will surely get their appetites going with just a bite of the green papaya mixed with the salad's sweet-tangry vinegar sauce and crunchy fried fish.
Preparation Time: 30 minutes plus 20 minutes to chill
serving: 8-10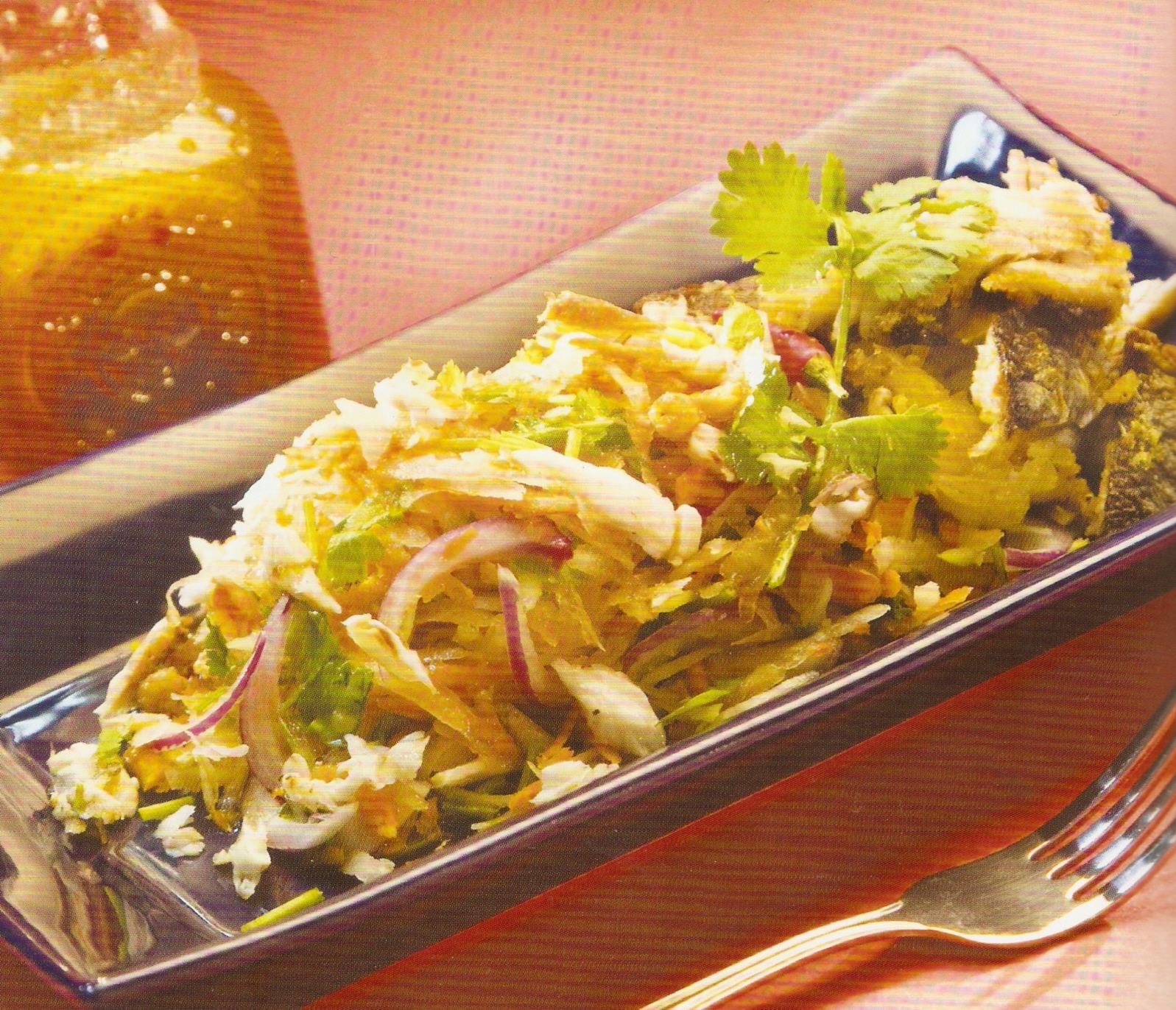 Papaya, Carrots and Fried Fish Salad Ingredients:
3 cups grated unripe papaya
1 1/2 cups grated carrots
1/4 cup copped wansuy
1/4 cup hive (dried shrimp), soaked in water for 10 minutes then drained
3 pieces siling labuyo
1/2 cup brown sugar
1/4 cup vegetable oil
1/4 cup calamansi juice
1/4 cup vinegar
8 g MAGGI MAGIC SARAP
2 tbsp patis or to taste Shredded left-over fried fish crispy fried tofu or fried wonton wrappers (optional)
Procedure:
Toss papaya, carrots and wansuy in a bowl.  Set aside in the refrigerator to chill.
Using a mortar and pestle, coarsely crush the hive and the siling labuyo together.  Transfer in a bowl.  Add sugar and mix very well.
Whisk in oil,  vinegar & calamansi juice into the mixture till mixture is fully incorporated.
Season with MAGGI MAGIC SARAP  and patis to taste.
To assemble salad, toss the prepared vegetables in the prepared dressing.  Transfer on a plate and top with fried left-over fish, fried tofu or crispy wonton wrappers if desired.
You might also like
How to Make Caesar Salad
Caesar Salad is one recipe I didn't want to eat before, I am fond of eating vegetables but not raw,...