How to Cook Nilagang Baka (Braised Beef) Filipino Style Recipe / Ingredients
posted by: Feby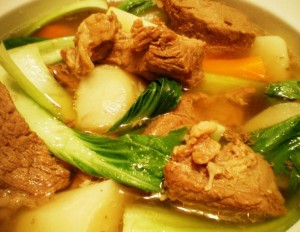 Being an eldest child wasn't that easy. You have to do the responsibilities done by your parents when they are away from home. These responsibilities include all the house chores such as cleaning the house, taking care of your siblings and also cooking. But if there's one thing I want to do about acting like a parent at home , it is to cook meal for the family.
At an early age, I learned how to cook for my family. My mom taught me how to prepare and how to make different dishes. The first dish I learned was how to cook nilagang baka. Nilagang baka is a Filipino recipe served with a special soup and vegetables in it. It's very easy to prepare and cook. If you might be interested to know on how to prepare this menu, I will be glad to teach you how.
Here are the things you will need and prepare:
Nilagang Baka (Braised Beef) – Filipino Style
Ingredients:
½ kilo Beef brisket or fore rib part
2 large sized potatoes, halves
2 whole corns with cob, divided into three parts
Pechay or cabbage
1 thumb-sized ginger
1 big onion, sliced
¼ tablespoon of black peppercorn
Fish sauce/ salt to taste
3-4  cups of water
Cooking Procedure:
Put the water into a big casserole. Add the ginger and onion. Bring to boil.
Add the beef brisket or fore rib, black peppercorn and fish sauce. Simmer for few minutes until almost tender. Then add the corn. After few minutes, put the potatoes.
When the beef is  already tender and the vegetables are almost cooked, add pechay or cabbage. Simmer for 5 minutes.
Serve with fish sauce and lemon juice on the side. Don't forget to pair it with steamed rice too.
The above menu is another lutong pinoy that is delicious and healthy.   This is another hearty meal that you can share with your loved ones and friends.
Cooking is something I love about being an eldest child.   Let's all learn to how to cook and share the goodness in it.
You might also like