Best Culinary Arts School in Singapore
posted by: Gretchen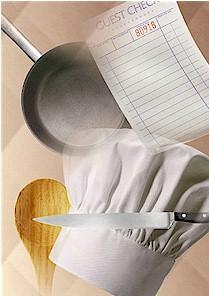 Singapore has a diverse culture-a combination of East and West. Influences from the Orient and Occident make the country a perfect location for culinary arts schools.  The country's passion for cooking also paved the way for the building of culinary arts schools that offer quality education and great training in the field.
Top Culinary Arts Schools in Singapore
Shermay's Cooking School: This school was founded in 2003 by an award-winning cookbook author by the name Shermay Lee. She was trained at the renowned Le Cordon Bleu. However the focus of her school is on traditional Singaporean cuisine. The school has full-time chefs but it also has rotating guest chefs who have more years of experience in the field. Many of the chefs have experienced cooking in three star restaurants rated by Michelin. Shermay's keeps on adding new workshops and has a range of dishes and recipes. It offers memberships to the school. It's actually one of best culinary school in Asia.
At-Sunrice GlobalChef Academy: It was established in 2001 as an Asian culinary school but later on expanded to cover Eastern and Western food. It offers full diplomas in the field. They have the program called, "Study and Work." Under this the students are trained in top hotels and restaurants as part of their education. Just recently, two students received the "Apprentice of the Year" award in the fields of Pastry and Culinary.
Palate Sensations Cooking School: It provides programs for beginners and advanced students. It provides a state-of-the-art open kitchen with room that can accommodate 25 students at a time. The cooking workshops and classes are divided between Eastern and Western food. The school has a chef for macrobiotic diet cooking. Moreoevr, according to one of the reviews I read, it was chosen as having the "Best Venue" by Singapore parties.
Creative Culinaire: It offers programs for cooking and baking and an entire program focused on bread-making. It has its own "Caffe Pralet" where students prepare food for customers.
These schools are set to make their ranking even higher. They want their names to be on the top in the field of culinary.  You can also get a diploma at SHATEC the Singapore International Tourism Hotel and Tourism College. Inquire now and begin your career in cooking!
You might also like