How to Dress like Blair Waldorf
posted by: Gretchen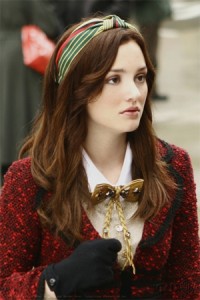 The teen drama series Gossip Girl is gaining popularity because of the great setting, cool stars, and the fabulous fashion styles of the characters. The storyline simply revolves around the Manhattan elite. The main characters live at the Upper East Side. They are being watched by the ever alert gossip girl. She is the all-knowing narrator of the story. Nobody has seen her. Nobody has the idea who she is. She's simple mysterious. No one can escape from her watchful eyes.
One of the major characters of the drama series is Blair Waldorf played by Leighton Meester. Blair is the bestfriend of Serena van der Woodsen played by Blake Lively. Blair is known as Queen B because she uses her charm, money, and social clout to win people over. Although she has the tendency to be bitchy, her character, together with her fashion is adorable. She really wears beautiful and trendy outfits. Her dresses are very attractive making her even sexier and hotter. She has an amazing fashion sense and a true signature style.
Dressing up like Blair Waldorf
If you like her fashion sense like I do, then here are some styling tips for you.
Wear headbands! Headbands are her trademark. In almost every episode, you'll see her wearing headbands and bows. So grab headbands and bows, too. Don't step out with your hair out of place.
Blair is all about skirts and dresses. She never wears pants in any of the episodes of Gossip Girl but she wears colorful tights and knee socks. Wear flirty dresses with girly touches when attending parties or any other social gatherings. Most of her dresses are adorned with flowers, catchy designs, and ruffles.
Opt for classy blouses, white dress shirts, and button-down coats. Choose a coat in an unconventional shape. Blair often sports the school girl style.
For your footwear, wear stylish boots, chic flats, or high heels.
Match a stylish handbag with your outfit.
Check your clothing now! Do you have any outfits that resemble Blair's outfits? It's probably time to upgrade your wardrobe! XOXO, Gossip Girl.
You might also like
Leighton Meester Boyfriend
Are you a fan of Gossip Girl? Do you watch every episode aired on TV? If you are, then welcome to the...

How to Date a Popular Girl
Getting the attention of a popular girl is not easy especially if you are not a popular guy.  The popular...

How to Date a Hipster Girl
Girls differ in many ways.  Some girls like Indie fashion; others just like to go with the flow.  Some...