Rhinoplasty : Nose Lift Without Surgery – Rhinoplasty Cost Philippines
posted by: Feby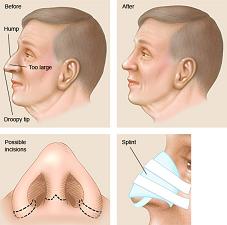 "It is only with the heart that one can see rightly; what is essential is invisible to the eye"- It is the famous line from the story of Little Prince by Antoine de Saint Exupery.   It gives us the message that physical appearance doesn't really matter, it is what's inside us that really counts.   But this message is now considered as one of the many things that are considered a "thing in the past".  It may be true that our attitudes are the most important thing, but what is that first thing that people notice in us?   Isn't it our physical appearance?   I'm not saying that we should be bad and neglect all the things being taught by our parents but we should also remember that being beautiful outwardly is a trend nowadays and Filipinos are one of the many people who realized that.
Filipinos are known as the one of the kindest and jolliest people on earth but when it comes to physical appearance, they are so open for change that they embrace aesthetic surgery with open arms in the Philippines.   They try everything in the name of beauty.   They change what they don't want in their body and that includes their wide nose.    They want to have that pointed nose just like Americans.   It's a good thing that in the Philippines, they offer rhinoplasty or nose lift without surgery.
Rhinoplasty or nose lift without surgery is a non surgical way to improve the shape of your nose.   It uses injectables like botox cosmetic or hyaluronic acid to contour the nose without undergoing any surgery.   It's faster and you can see the result just after 15 minutes.
Best Rhinoplasty Clinic in the Philippines ?
Belo Medical Group – It the most popular clinic in the Philippines as far as aesthetic surgery is concerned. Celebrities are their usual clients. So they offer only the best. They have nine clinics in the Philippines to visit: Trinoma mall, Medical Plaza-Makati, Rustan's, The Podium-Ortigas,Tomas Morato,Cebu, Alabang and Greenhills.
Calayan Surgicentre Corp. – It is also one of the best and popular surgical clinics in the Philippines. Just like Belo Medical group, they offer the best services to their clients. They have clinics in Makati City, Quezon City and even in Los Angeles, California.
Plastic surgery or non surgery nose job  could cost at around $500 to $2,000. It could be pricey but the effect is eternal beauty and inner satisfaction.
You might also like
How Nose Job is Done
One of the most popular cosmetic surgeries done around the world is nose job or rhinoplasty.  This,...

How to Narrow a Wide Nose
Undergoing cosmetic surgery has become very popular and has been widely accepted by the public.  One...