How to Remove Whiteheads from Nose
posted by: Feby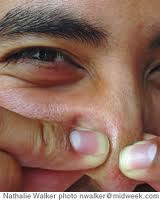 Some imperfections on our face that are not that visible are often neglected. We tend to never mind those things on our face because we believe that they are just nothing compared to acne and pimples.   One of the examples here is whiteheads / blackheads.   Whiteheads are color white and tiny that we can often see these on our nose pores and on chin.   They don't seem to do any harm but actually it is one of the types of mild acne because of clogged pores.  Whiteheads are really stubborn and hard to remove all at once because they would be coming back at a certain time from our faces.  Do you have whiteheads also?  Do you have any idea how to remove whiteheads from nose naturally?
Whiteheads are really disgusting and can be seen on our nostril or nasal part. Well, the problem is over with these home remedies that you can do at home. Apply these beauty tips on how to get rid of whiteheads from nose.
How You Can Remove the Whiteheads from your Nose
Wash your face often.  Always make sure that your face is clean by washing it with antibacterial and mild soap.
Exfoliate your skin.  Try using some natural scrubbers from fruits' peel such as orange peel and mix it with milk.  Use this once a week.  Exfoliating your skin will help remove the whiteheads and dry cell, allowing a new skin to come out and gives you a healthy glow.
Steam your face. Boil water.   Make it cool for a little bit until you can tolerate the heat on your skin.  Steam your face for few minutes.  This will open the pores and will remove the dirt from the pores.  Finish this up with a mild soap and rinse with cold water to close the pores thus bacteria won't get in.
Use whiteheads removal.  Comedone/comedones remover is a great tool to use in removing white heads. Just make sure you sterilize this well before using it on your face.  Using the tool, press down slowly and roll out.  You can see that whiteheads are being removed.
If you have all of these things but you think it's not working for you, then visit a skin care clinic.  Dermatologist has new innovations in removing this permanently.
You might also like