How to Do Threading Hair Removal
posted by: Gretchen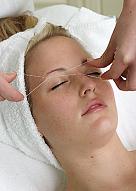 Men and women have facial hair.  The difference lies on the thickness.  Women have finer hair.  But it becomes thicker, it becomes annoying. There are actually many methods that can be used to get rid of unwanted hair.  We have waxing, shaving, sugaring, tweezing, and threading.
One of the common ways is threading.  This ancient method is normally used to make the eyebrows look better by improving its shape.  It is also used to pluck the hair in the underarms and upper lip.  It is safer compared to depilatory creams.  One thing good about this technique is that you don't need to wait for it to grow longer before you can do it.  It can remove the finest hair from its root.
Do you want to try the threading technique to remove hair ?  Well, this post might be of help to you because we are going to talk about how threading is done.  Take a look at the following instructions and learn.
Take a thread of 2 feet long.  You can use any thread but make sure that the thread has good quality.
The second step would be to knot the ends of the thread up to have a circle of thread or a loop.
Now hold the thread with both hands.  Take one side and wind or turn it about 10 times so the wound part is in t he center.  Beauticians normally keep on end in their mouth.
The next step that you have to take is to put the thread around the fingers of both hands.  Push the wound part towards one hand by opening one hand while closing the other.  It's like cutting motion. Push the wound part in the other direction.
Practice the motion on your leg since it's the best choice.
Salons have this kind of service and they charge it like $2.  It's pretty expensive, right?  You can also try Epicare Facial Hair Threader, Facial Epilator or any other similar products.  If you want a permanent removal try electrolysis done by a professional.
You might also like