Best Tourist Spots in Brazil
posted by: Gretchen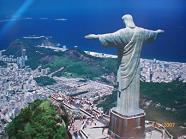 Brazil is a very good destination for a family vacation or even for lovers who want to spend quality time together away from stressful work and environment. It is actually one of the most beautiful places in the Southern part of America.  It also has a wonderful culture that you may want to experience.
Top Tourist Spots in Brazil
Here is a list of the tourist attractions in Brazil that you may want to explore.
Rio de Janeiro:  It is the perfect place for you to enjoy the beach and nightlife fun.  It is a city with majestic beauty.  There is a good collection of museums where you can see ancient objects and Brazilian artifacts.
Itatiaia National Park:  It is the oldest park in the country which features Veu de Noiva waterfall and other attractive spots.  If you are into birds, this is the best place for birdwatching.  You can also enjoy climbing, hiking, and trekking.
Lagoa do Taquaral Park:  This park is located in the City of Campinas in Sao Paulo. It features a science museum, a swimming pool, a planetarium, and a sports stadium.
Pico das Agulhas Negras:  It is the highest mountain in the country with the height of 2, 791 meters.  One good thing about this place is that you see the view of the Itatiaia National Park.  You can also see the Abrigo Reboucas shelter.  If you are into exciting activities like hiking and rock climbing, this could be the place for you.
Fernando de Noronha:  This place features a beautiful and untouched beach where you can enjoy different water sports like diving, surfing, and snorkeling.
New Jerusalem Theater:  In this theater, you can find interesting structures like the Roman Forum and the Statue of Pinio Pacheco.
Rio Guapore:  This river has a length of 950 miles and its elevation is 430 feet.
These are the places and tourist destinations that boost the tourism industry of Brazil. You can also visit Argentina and Mexico for more wonderful experiences.
You might also like