Best Time to Travel to San Francisco
posted by: Gretchen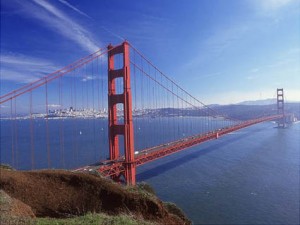 San Francisco, being the fourth most populous city in the state of California is a very popular tourist destination because of its chilly summer fog, rolling hills, and its renowned landmarks that include the Golden Gate Bridge, Chinatown, and cable cars. It is also known for its eclectic mix of Victorian and modern architecture. Furthermore, it is also a principal banking and finance center. Actually, San Francisco is one of the world's top producing cities which falls on the 18th place.
When is the Best Time to Visit San Francisco?
If you plan to travel to San Francisco and spend your vacation or holiday there, you must have an idea about its weather and the time when it's crowded to avoid spoiling your trip. Basically, it can be fun in any season and the best time depends on your preferences. However, you might still want to know what happens during a particular season.
In the summer, the fog rolls in mornings and evenings that creates misty chill in the air.
September and October are the warmest and sunniest months.
April and October have the clearest skies.
Rain is unusual from November to March and snow is almost unheard of.
During summer, the top tourist spots are crowded with tourists.
During winter, the city is least busy except around Thanksgiving and Christmas. Hotel rates are lowest in this time of the year. You could also avail of cheap flights during this season.
During spring and fall, cherry blossom trees mark the city. For many, the best times of the year to travel to San Francisco are spring and fall.
Choose the perfect month of the year to visit California and you'll enjoy the things it has to offer. Have a great and safe tour to San Francisco!
You might also like