Best Time to Travel to Paris, France
posted by: Gretchen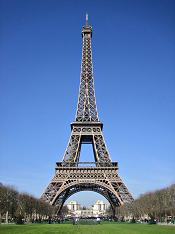 Once you have decided to visit a specific place, one of the pressing questions that need to be answered is if when is the best time to travel ? If you are set to visit the beautiful city of Paris for the first time, you need to consider factors like weather, holidays, things to see, and airfares.
Before we answer the question, let's talk about the sceneries that are worth seeing in Paris. Check them out.
Must-see Places in Paris, France
The Eiffel Tower: This is one of the world's most renowned structures.
Basilique du Sacre Coeur (Sacred Heart): This is an amazing church that you must see especially if you are a Catholic.
Notre Dame de Paris: This is one of the earliest Gothic cathedrals.
Jardin du Luxembourg: This is the largest park in Paris and is one of the favorite places of children because of its large playground and free puppet shows.
Le Marais: It is loaded with great shopping centers, beautiful storefronts, and fantastic Kosher delis.
Arc de Triomphe: Napoleon requested this to be built in 1806 as tribute to his victories.
Le Musée du Louvre: This is the world's largest museum and you will see here many great masterpieces of renowned artists.
Centre Pompidou: It is popular for its best collections of modern art in the world.
Musée d'Orsay: This was once a train station but now it's one of the best places to see when you're in Paris. It has a broad Impressionist art collection.
You may also want to experience river cruises or a drive to London to make your vacation even more exciting. You can also take a train to get there.
Best Time to Travel to Paris
According to a source, the best time of the year to travel to Paris is late spring or early summer.  If you are concerned about the weather it is sunny and warm so this will make your tour exciting.  During this time of the year you can witness events like Fete de la Musique, Bastille Day, and the Tour de France.
July and August are the worst because the city is crowded. P arisians and French are usually on holidays during these months. During the cold season (November-February), hotels tend to charge off-season rates.  You can also get cheap tickets during these months.  Airlines usually offer promotions. If you have a tight budget then this is the best time to take flights.
Consult travel agencies for a well-planned trip. Check the website of Travelocity.  Bon voyage!
You might also like