Best Places to Visit in California
posted by: Feby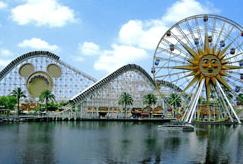 School is over.   Once again it's vacation time. Are you looking for some beautiful places to spend it with?   Whether you are a family man or just young urban professionals,  we all look for cool places to spend our vacation. Vacation is something that we look forward to every once in a while.   But if you don't have plans about it yet and still looking for the right place then let me suggest one.   I will definitely recommend California.  Why? California is so rich in everything when we talk about travel destinations whether you are looking for romantic place to date your partner, historical places for people who love history, haunted places for ghost hunters or even just a simple family- get- together.   There so many things to see and things to do from Northern California to Southern California.  I will guide you on the best places to visit in California with maps.
Here are Some the Best Places to Visit in California Including the Things that you can Do there:
Anaheim, Orange Country, CA – This is where the famous themed park Disneyland located. This destination is for the whole family.  The new attractions here are: Finding Nemo Submarine Voyage, The Pirates of the Caribbean rides with a new twist, and Star Tours.
San Diego, CA. – If you want to see the world's famous Shamu, then you should visit the Sea World.
Universal City, Los Angeles, CA. (Hollywood) – You shouldn't miss this place. You can see how movies and TV shows are made.
Yosemite National Park, CA. – This place is best for camping, hiking, rock climbing, strolling through the meadows, and gazing the stars at night.
South Lake Tahoe, CA. – Best place to visit during winter. This place is considered as the "heavenly slopes". Skiing and snowboarding are the best things to do in here.
Catalina Island, CA. – This place is best for divers.
Santa Cruz Beach Boardwalk-Santa Cruz, CA. – Locals from California call this place as the Main Beach. It is one of the beaches in California where you can surf, and swim. This place is great for summer.
Big Sur, CA. – It is famous for its stone lighthouse. It has also great scenery which is best for romantic getaway.
The list could go on about the best places to visit California but it all come down to one point:  California is indeed the best place to unwind and relax.
You might also like