Best Beaches in Thailand near Bangkok
posted by: Gretchen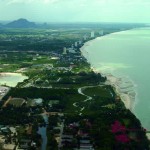 Thailand has some of the world's most beautiful beaches. This is the reason why beach lovers always consider Thailand for a tourist destination.  It's a good place for a perfect getaway with your friends, family, or with your special someone.  Aside from the pristine beaches, there are also a lot of exciting things to do there.  It offers activities that would make you experience the Thai culture and traditions . If you are fond of seafood, well, it has restaurants that offer fresh seafood. You'll really love hanging out in its gorgeous beaches.
Beach Destinations Near Bangkok
For you to be guided of the beaches there, here is a list of the best beaches near the city of Bangkok.  You won't have to go far just to enjoy.
Cha Am Beach:  It is located just 160 km south of Bangkok.  If you are looking for a quiet beach, this is a good choice.  It offers modern hotels and resorts along the coast and beaches so you will really enjoy the sight of nature.
Khao Takiab Beach:  This beach is located in Hua Hin, an area near Bangkok. It offers activities like swimming, sailing, fishing, and boat trips.  Temples, horse cart rides, and elephant rides are also available.
Pattaya:  It is a very lively and popular beach city. It hosts International Sport Events, Music Festivals, and a major conference destination in Asia.  It also offers inexpensive places to stay.
Jomtien Beach: It is located just beyond Pattaya so you don't have to go far. It is also a good place to have fun and enjoy the beach.
Koh Talu:  It is a natural island off the coast near Bang Saphan and ban Krut. This is very quiet because there's no shopping and nightlife. Tourists who want peace and serenity would pick this place.
What are you waiting for?  It's time to visit and explore Thailand!  Book your flight now and tour around Thailand.
You might also like
Top 10 Mexican Beaches
Have you been to Mexico? Do you have any plans going there?  The next time you think of having your...