Beach Resorts in Ilocos Norte, Philippines
posted by: Gretchen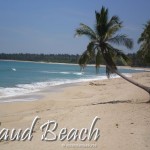 Ilocos Norte has becoming popular because of its beautiful sceneries. Aside from the Spanish-inspired architectures in the province, it is also rich in natural resources.  There are beautiful beaches that truly captivate the eyes of anyone who would see them.  The majority of its gorgeous beaches are located in the town of Pagudpud, which is hailed as the "Boracay of the North" because of the white and fine sand but without the huge crowd of tourists.  Unlike Boracay, Pagudpud beaches are tranquil but their beauty can be compared to the famous Boracay Island. Besides Pagudpud, Currimao also has captivating beach resorts. Let us name some of the beautiful beach resorts in the province of Ilocos Norte that have been featured in Ilocos Times.
Saud Beach Resort:  The beach features pure white sand that will surely mesmerize you.  It's a very peaceful place for you to get close to marine life. It is not crowded and there no noisy bars along the area.  It's a perfect place for a romantic honeymoon or for a relaxing getaway.  With regard the amenities, it has fully air-conditioned rooms, each with a veranda and sunset view, coffee table, a mini-ref and a mini-bar, private bathroom, and sulo lights facing the beach area.
Villa Del Mar Ivory Beach Resort:  This resort has been accredited as a Class A resort by DOT.  It features 30 rooms like beach condos, swimming pool, a restaurant with WiFi access, souvenir shop, mini bar, multi-purpose pavilion, picnic areas, and a mini-plaza. It also offers outdoor activities.  Lately, it has become a favorite wedding venue.
Hannah's Beach Resort and Convention Center: It is the newest tourist destination in Pagudpud. It offers luxury in a very friendly environment.  It features an ocean view hall, pavilion, convention center, shuttle services, retable gadgets and instruments, restaurant, and gameroom.
Playa Tropical Resort Hotel:  This adorable resort is located in the municipality of Currimao. It is inspired by the wonderful designs from Bali. It is about 35-minute away from Laoag City.  You can simply enjoy the beautiful view of the place itself and the food that they serve. It features infinity pool, game room, spa, spacious casas, and others. It's a perfec destination for your next vacation.
There you go! These are the famous beach resorts in Ilocos Norte. They are perfect for holidays and honeymoon, right? If you like to stay in the city for nightlife, then look for lodging cabins or inns where you can stay overnight. Look for tour packages where you get to see other attractions in the province. Enjoy your visit! Have a safe travel!
You might also like
Ilocos Norte Tourist Spots
The Philippine Island is full of adventure and surprises. There are a lot of things that could give you...

The Joys of Travel
To travel is to learn. Traveling to places is sure to give a good experience and wisdom to your wondering...