How to Date an Aquarius Woman – Dating Guide
posted by: Gretchen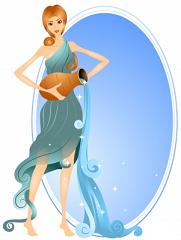 When you like a woman the first thing that you like to do is to take her on a date.  You want to spend time with her to get to know her more.  But of course you want to make your first date a wonderful one, not just to impress her but to let her feel how special she is to you.  Now you have come to this post to get some dating tips to guide you on your date.
The Aquarius Woman
Getting to know the woman you are dating with is important.  This is one good way to build a good relationship.  Let's shed some light to the personality traits of the Aquarius woman.
This female has the tendency to be broadminded, unpredictable, independent, exciting and usually different.
She can have radical ideas about life.
She is a woman of unique views and this makes her charming.
She is not concerned to what others may think of her.  She is not interested in gaining compliments.
She tends to be independent.
She appreciates an intellectual partner.
She tends to be hesitant to enter a total commitment because of her desire to be independent.  However, if she says yes and she'll marry you, she will be very loyal to you.
Female Aquarius Dating Guide
Take it slow. Start as friends.  Be a friend to her.  Do not pressure her to commit herself in a relationship with you.  This will scare her and will drive her away from you.  Be patient until she gives you a sign that she's ready for a romantic relationship.
She likes to travel and she's interested in culture.  Use this to catch her attention and win her heart.  Plan for a trip that will surely interest her.
Don't forget to give her flowers.  She simply loves them just like other women.  Flowers will brighten her day.
Show that you've got brains.  Remember she likes intellectual men.
Aquarius Love Compatibility
Scorpio:  It is very difficult for these two to meet.  Their not compatible as they both have strong power.
Libra:  This will make a good couple. The Aquarius woman is pleased with the Libra man.
Leo: They are opposites. But according to the law of attraction, opposites attract.  They are attracted to each other.
Gemini:  They will enjoy the company of each other.
Capricorn:  Dating seems to be uncomfortable at first but eventually they will build a strong attraction.
Pisces: Their match is compelling.
Now set your date and mark your calendar so as not to forget that day.  Meet your woman on time and show that you care.  No matter what your sign is, it doesn't matter.  Your compatibility also depends on other aspects.  Just show your true colors to the girl and make her fall for you for who you really are.
You might also like
How to Date a Leo Girl
Trying to get a woman who has a very strong or different personality is pretty challenging, especially...