Single Dad Dating Tips and Guide
posted by: Gretchen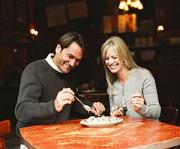 Dating to find your perfect match is a crucial thing.  It's even frustrating if you've dated different kinds of people before but nobody seems to hook your heart up.  Some people even give up dating because of frustration.  It's even harder if you are a single parent.  You have your kid/s to consider.  Most single fathers and moms are focused to their children and to their businesses or careers.  The past relationship is also a big factor to consider especially when you are not yet over it.  But it should not end there.  Flirting should be given consideration.
I've thought of making this post to help single dads consider dating and to make it successful.  Look at the following dating / relationship tips:
Think of dating as an outlet or something that you can use to break the monotony of your life.  Dating can give spice to your life. Whatever happened in the past, you have to leave it behind and move forward.
When you ask a woman on a date, focus your attention to her.  Engage in conversations that interest the two of you.  Avoid thinking about your kid/s.  It may ruin your date.
If you're sure that you want to give it a try again, let your kid/s know that person as early as possible.  Observe the woman if she can deal with your kid/s.  Of course your kid/s may not like her at first but in time, they will like her if she's nice and easy to get along with.
Don't make your children feel that you are already neglecting them because of the woman.
Choose a family-oriented woman-someone who is responsible enough to help you with your responsibilities as a single papa.  You'll need a woman who can support and understand you and your children in ways that she can.
Set a day for you to have quality time together.  This will bring your woman and your kids closer.
There aren't any rules that you have to follow when you date.  You just have to consider some factors that affect your relationship with your kids and with the woman.  Be a responsible parent and a responsible lover at the same time. This isn't a very hard thing to do.  It's only about balance.  Go daddy!
You might also like
How to Date a Bad Boy
It's funny but most good girls fall for bad boys.  They simply can't resist the charisma of bad...

How to Date on Facebook
Social networking is very popular now.  We have Facebook, Myspace, Friendster, and Twitter.  Among...