How to Date a Cheerleader
posted by: Gretchen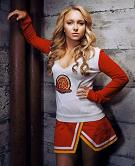 All is fair in love and war.  You can love anyone.  You can date anyone for as long as the person wants to date with you, too. So, your cup of tea is a cheerleader.  You've been watching her from a distance and you just don't know how to catch her attention.  Worry no more because we have here a list of relationship ideas for you to be guided in dating a girl from your cheerleading squad.  Read the following tips for your dating guide:
Guides when Dating a Cheerleader
To be close to her by watching her rehearse and try to befriend her circle of friends first.  They will be your passport to her life. Join their activities until you will be close to her.
Date the person, not the cheerleader.  Treat her like anyone else.  It's true that she's a cheerleader but she is just an ordinary person.  Love her by being her. Make her feel that she's amazing not because she's a cheerleader but just the way she is . Some guys like her because of her fame and glory.  They want her as a trophy girlfriend.  Don't be one of them.  This dating advice works.
Don't be very nervous or trying hard to impress her.  She's just a human like you. Know her other side.  She may seem to be very firm but she may be going through stress.  Help her dear with her frustrations or problems.
Don't be so demanding of her time.  Try to get her schedule of practice and show your report instead of complaining and being jealous. Understand that cheerleading entails much time for practice.
Take her to places where you can comfort her.  She has a busy schedule so try to relieve her from stress.  Cook for her and rent a good movie to make it more intimate.
Compliment her and appreciate her effort.
Show your support by wishing her good luck before a game.
There you go!  I hope you'll have a great time with her.  Have fun!
You might also like
How to Date a Black Man
For most people interracial dating is a big deal.  It is an issue.  This is the reason why parents...