How to Date an Older Man – Dating Guide
posted by: Gretchen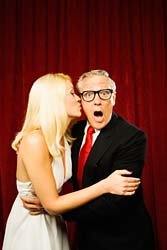 Love moves in mysterious ways.  Age doesn't matter.  You can fall in love with an older man.  This isn't weird.  It actually happens and has been experienced by many teenage women. For some to see a teenager dating an older man is disgusting. But for those who have had happy relationships with an older man, dating with such is a wonderful experience.
If you are tired of dating with guys at your age and you want to experience something new and you consider a date with an old guy, then this post is for you.  We are going to deal with some dating guide on how to date an older man so as to avoid driving the man crazy.
Reasons to Date Older Men
He's very supportive.
He will open you eyes to things that you haven't experienced before. Younger men will only show you the things you know already.
He doesn't stay out late especially at night.
He understands himself.
You are pretty to him.
Dating Tips on How to Date an Older Man
Avoid talking about the past.  Yes, you are tempted to tell him how you had fun in your childhood years. You want him to know the silly and funny things you did.  Also avoid talking about your favorite shows and teen fads because you will only highlight your age difference.  Just focus on things that you both experience. Find common interests and ground.
Respect his time. Understand that he has other things to attend to. Don't monopolize his time. Don't be so demanding.
Limit your talk time over the phone.  When he says he has to go, don't try to extend it.       It's sweet to call him but do not overdo it.
Don't be too stubborn.  He is not your father.  He is a lover.  Do not show much immaturity.
Ignore the negative comments of people around you.  Do not justify your relationship as long as you know that you know that you have good intentions.
Be yourself. Show your true colors.  If the old guy really likes you, he will accept you for who you really are. But on your first date, don't show your childish stuff yet.
Should you date an older man, try to adjust yourself to his interests.  Get on to his level if you can.  The success of your date and relationship relies on both of you.  Once it becomes successful you will say it's ok to be with an old man.  Miley Cyrus was once seen dating with an older guy.
You might also like
How to Date a Rich Girl
We often hear people say that all is fair in love and war.  In the magical world of love, a princess...

How to Date a Tomboy
Homosexuals have their place on earth.  They have the right to live their lives the way they want it....