Slow PLDT DSL Internet Connection – PLDT myDSL Sucks
posted by: Dennis Aguilar

This will be another day of my PLDT DSL Nightmare. Its been almost 1 week and a half now and im still experiencing slow PLDT DSL Internet connection.  I just checked my internet connection speed and the download speed was just only 0.75 mb and upload speed was 0.50 mb.  Too Bad, very very slow internet connection.  Just a little bit faster than dial-up connection.  The average speed i can measure before was 3.65 mb  of download speed and 0.65 mb upload speed.   Watching a 5 minutes youtube videos take about 30 to 40 minutes to fully upload.  What da F*cK.  PLDT really sucks.
I remember about 5 months ago when we experienced super  slow PLDT DSL Internet Connection for almost 2 weeks.  Download speed was only 0.10 mb and upload speed was just 0.05 mb.   I can't opened most of the websites and most of the time "Network Timeout" was displaying on my browser.  Our business which is Online Tutorial Center that uses video streaming was very much affected.  We received lots of calls from our korean clients and our business was closed for two weeks. Terrible.  We phoned PLDT customers hotline twice, thrice, and even 4 times a day for two weeks and nothing happened.  We didn't even receive any feedback from their technicians.
I learned from a Korean friend that their country has the fastest internet connection.  Their average download speed is 22 MB and their average upload speed is 3.37 mb and yet they are only paying 1200 pesos montly if we convert it to Philippines currency.  Here is the screenshot of Korea's Amazing Internet Connection.  Click on the image to enlarge.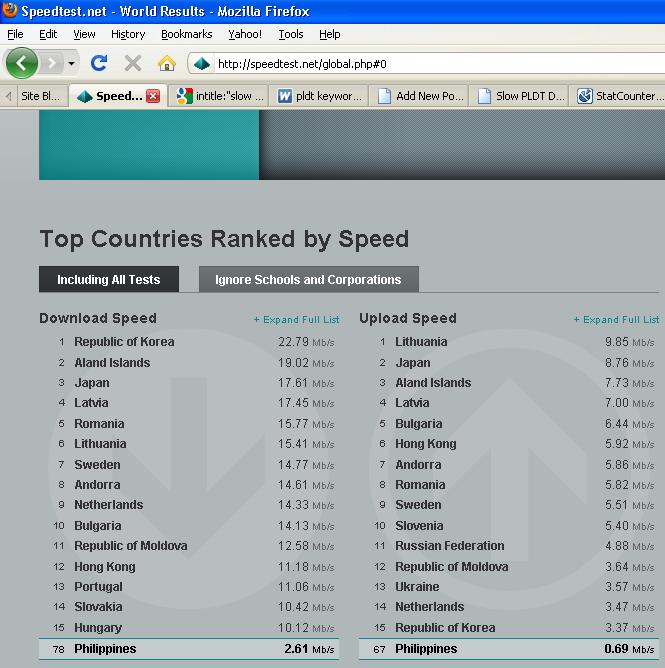 From the screenshot we can see how fast the internet connection in Republic of Korea.  However, Japan is the fastest if we consider the uploading speed.  But downloading speed is the most important.  Downloading 7 Gigabyte videos simultaneously only take about 5 minutes !!!   Watch the video below:
How about the downtime in Korea ?  I asked my korean friend and he said that the last time they encountered downtime was 10 years ago !!!  Wow, in 10 years time here in the Philippines, if you have PLDT myDSL or Digitel ISP, that would total to 2 years of downtime.  I don't know when it comes to other ISP here in the Philippines like Globe, etc.. but i think they are just all the same.
Back to montly bill, i said a while ago that my korean friend only pays 1200 pesos monthly for the average downloading speed of 22 MB and average uploading speed of  3.3 MB.  How about my monthly bill? Our montly bill ranges from 10,500 to 11,000 for the average speed of 3.65 mb download and 0.69 mb upload.  I understand that our internet plan is business package, but do you think that its fair enough? Considering that the average speed is only 3.65 mb, considering that the speed always slows down just a little bit higher that dial-up connection, considering their OFF time, considering their low perfomance phone support and general problem-solving ability.  I think that the price is too way high for that kind of service.
How about PLDT's myDSL Residential Package worth 1,995 ?  How much internet speed can you get ? PLDT offers 2.0 MB for that speed right ? and probably the average speed is  1.5 or 1.7 MB and possibly slows down to 0.5 mb download speed during bad days.
I understand that PLDT cannot match the internet connection speed in Korea because they are using fiber optics.  But i think PLDT should at least work on maintaining the speed that they offer and work on improving their service.  Slowing of Internet connection as slow as dial-up connection for almost 2 weeks just like im experiencing right now is totally unacceptable.  How about calling for 2 weeks on their totally useless customers hotline and completely ignoring your complaint?  PLDT myDSL really sucks !!!
How about you? Do you think you are also a victim of PLDT ?  I think i am.  I think NTC also sucks because they keep on ignoring the million of complaints from PLDT subscribers.   Write a comment below if you have the same experience with PLDT or any other ISP.
You might also like
Globe Wimax Review
One of the best wireless broadband internet providers in the Philippines includes Globe Telecom. It offers...