How to Make Homemade Fabric Softener
posted by: Gretchen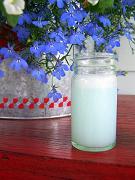 Fabric softener has become a part of doing the laundry.  Most people use it to make the clothes smell better and softer especially during rainy season. Clothes can get sour if there's no fabric conditioner.  The most popular fabric conditioner is Downy.  It has a mild but long-lasting scent and it actually comes in different scents.
Now you can make your own fabric softener at home without having to worry about its cost.  You'll need some natural ingredients to create it.
DIY Fabric Softener Recipes
Mix three cups sugar, 2 cups hair conditioner, and 6 cups water together. Mix them thoroughly in a bottle that can be sealed. You can recycle an old empty container of your fabric softener. You have to seal it well to avoid spilling it. To use this, simply use the same amount that you would use with your scented or commercialized fabric conditioner. Using hair conditioner will give it a scent but it's better to add essential oil.
Another recipe that you can try is the use of baking soda, hot water, vinegar, and essential oil.  You'll need 1 part each of baking soda and vinegar and 2 parts of hot water.  Dissolve the baking soda into the hot water.  If the baking soda is already dissolved, add vinegar to it.  Fizzing will take place so it is advised that you use a large pail.  Then ass essential oil when the fizzing stops.  Mix the ingredients well.
Have to Know :
Adding essential oil to the mixture will give your clothes a fresh scent.
Vinegar won't add harsh chemicals to the laundry but will remove soap or detergent residue from them.
Vinegar will eliminate static cling from your clothing.
Commercial fabric conditioner builds up on your towels or bed sheets after repeated use, making them less absorbent.
It's pretty easy to create your own fabric softener plus it's really affordable. Find time to do it but be sure to follow the instructions well.
You might also like