One Year Anniversary Gift Ideas for Girlfriend
posted by: Gretchen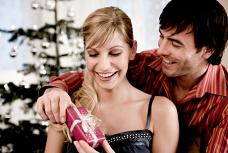 Special gifts are for special people.  When we say special people your girlfriend or boyfriend is of course counted. Gifts are not about how expensive nor how huge they are.  When you give a present, you should give it out of love to make it really special.  To show love is to do some effort.  A piece of an expensive jewelry as a present matters but not all the time.  It can get boring if you keep on receiving the same things.  Sometimes spending time together is even a greater present.  You need to use your creativity and be resourceful to please your special someone.
You've been together for a year.  It's but proper to give something symbolic to your girlfriend or wife for the love that you've shared for 1 year.  Make your celebration extraordinary and wonderful. Read the following for gift ideas.
1 Year Anniversary Gift Ideas for Girlfriend
Romantic Getaway.  Take her to places she'd never been before.  Plan for a romantic setting in that place.  Then try some adventures in there. She'll definitely love it.
Books.  This is not uncommon but if your woman is a bookworm, then give her the latest book of her favorite author.  You can read it together.
Romantic Evening.       Wear your best suit and take her to a deluxe restaurant in the city.  You can give her another surprise during dinner by giving something.  After dinner, take her to a movie or to a play.
Shopping Spree.  This is great for men who are not into tight budget. Women just love shopping.  I am sure you'll girlfriend is not an exception.  No girl can resist shopping!
Photo Frames.  Capture your moments together and collect photos. Customize the photos you have and put it in a beautiful frame.  You can add sweet quotes or a love poem.  Be creative. She'll treasure this forever.
Decorative Jar. Pick a beautiful jar and fill it with 100 reasons why you love her and how amazing she is. It's simple but sweet. This is one of the sweetest crafts.
If dating out is not her type, have fun indoors. You can have a party for two.  Spend time together and treat her as a princess.  Cook her favorite dish.  If you know how to bake, then bake some cookies or cake.  This is one good way of greeting her on your day.  You can also watch movie after eating.  If you have wedding plans, then this is the perfect time to talk about them.
Beauty Treat.  Take her to a salon or to a spa particularly if she has been working hard. Take her stress away with this gift.
Ask some other guys for gift ideas that they have tried giving to their girlfriends. Or you can just rely on your creativity.  Besides, she's your woman.  You know her so well.
You might also like