Best Present for Girlfriend's Birthday
posted by: Gretchen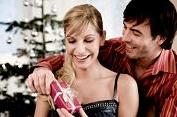 When we think of gifts, we often consider the expensive ones.  We think that the value of a thing depends on its price.  Well, actually there are times when the simple things are even more appreciated than the expensive ones.  A gift becomes special when it's done by your hands, mind, and heart.  Make your girlfriend's birthday extra special by giving her presents that truly show your love and care.
Gift Ideas for your Girlfriend's Birthday
As a boyfriend, you must really know her so that you can give her the best.  What are the things that she fantasizes?  Does she mention tangible things that she dreams of when you are together?  She may not necessarily demand you to give her that thing but you know deep inside her she desperately wants it.  If you can't really think of anything, then consider the following ideas.
Love Poem or Note.  Compose a romantic poem that expresses how fortunate you are for having her in your life.  You are thankful that she's born to love you. Tell her how much you love and care for her.  Make the presentation impressive.
A bouquet of flowers. Every girl loves flowers even if your girlfriend does not tell you.  Flowers are a great way of greeting your girl in any special occasion like Christmas.  You can also include a box of her favorite chocolate.
Picnic at the Park.  Prepare some of her favorite food and plan for a picnic at the park.  This is a very relaxing and sweet gift.  You're going to have your moments together on her birthday.  I prefer this over a big and loud party.
Beauty Treat.  Take her to a good salon and treat her body massage plus hair treatment.  It's going to be a very nice present.
Jewelry.  Buy something that sparks.  Women simply love jewelry.
Birthday gifts do not need to be very expensive.  Think of something that could make your girlfriend very happy.  Remembering her date of birth is even enough because there are those who forget birthdays of their loved ones.  Be faithful to your girl and love her with all your heart.  This is going to be the greatest gift.
You might also like