Best Gift for Girlfriend on her Birthday
posted by: Feby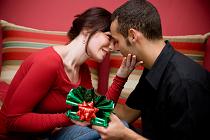 Birthday is something that we always look forward to not because of gifts that we could give or the treats that we could share.  Birthday is a date of a year where in you have to celebrate the goodness of the Lord.  It is something we look forward to because we want to look back and see how much we have grown up in the different aspects of our lives.  Well, the second reason or maybe the last reason why we look forward to that day is because it could be the chance for us to have one of our wish lists.  Do you known what I mean? Yes, I'm talking about gifts. In connection with this, it's not only you who got a birthday to celebrate, so you also to give gifts to other people like your girlfriend or maybe your wife.  So what are the best gifts for your girlfriend on her birthday?  What is the best present if her birthday falls on Christmas day or your anniversary?
Girls have different interests and that is the most important thing to consider when you are thinking of the greatest gift you could give to her.  Girls are not hard to please as long as it is being given with sincerity and effort.  Be the best boyfriend or men by giving her some of these gift ideas in any occasion:
Best Gifts for Girlfriend on her Birthday
Chocolate. Well maybe you know the answer why. Girls love sweets. They would really appreciate that if you give them a bunch of their favorite chocolate.
Jewelry. Most women want to pair their outfit with a classy jewelry. If you can afford diamond studded jewelry then do so. It's one of the few things that women fancy. So giving her jewelry on her birthday is just so perfect and would be the greatest present you could give.
Vanity Kit. Women are vain. They want to look good in front of everybody, so if it's her interest then you can buy the best make up in town.
Perfume. Just like make up, they also want to smell good. Research on the best selling perfume in town and give it to her. She would be really grateful if you did it.
Personalized gifts. I have mentioned earlier that women aren't hard to please as long as it being given with effort. Personalized gift will be much appreciated than any other gifts you could give.
Remember it is the day where in you could show how special she is to you so you have to be careful in giving presents to her especially if you want her to be your wife. Avoid giving the best fruit or maybe a gift basket because you couldn't see any sweetness in there, well this gift ideas is best if she's sick but if she isn't then think of other things. Your gift should show how thoughtful you are,so choose the best present for her.
You might also like