Pregnancy Tips for Indian Women
posted by: Gretchen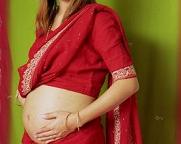 The essence of a woman is giving birth.  When you plan to get pregnant and raise a family, the woman should be extra careful.  It is important to keep the woman healthy and safe during conception to ensure that the baby will be healthy, too.  Getting pregnant over 30 is pretty critical so it is better to conceive when you are young.
Pregnancy Guide for Indian Women
For Indian women out there who plan to have a baby, here are pregnancy tips for you. Take a look at the following.
Indian women who are trying to conceive a baby should observe a healthy diet which means that you need a balanced meal.  This will ensure you that the baby will get enough nutrients like calcium, minerals, vitamins, protein, and many others. Consume food items like saragavo, methi sag, makoy leaves, lobia, rajma, panner, groundnut, and rai.
Indian women try to carry out fast during conception and this is not good for health.
You need to exercise to increase endurance and stamina.  This also helps ease common pains associated with pregnancy.
Stay hydrated by drinking plenty of water.  Avoid drinking coffee, softdrinks and alcohol.
Get away from sweets because this will make it hard for you to lose weight after pregnancy.
Quit smoking if you are a smoker.  This is bad for the baby and you.
Before even trying to get pregnant, have a physical examination first to see your body's condition.  This will help you prevent any complications during and after pregnancy.
To ensure that you and your partner will have a baby, you can try an old Indian fertility ritual where men used to immerse their testicles in cold water to keep them cool.  Extreme heat can kill sperms.
Wear comfortable maternity outfit or clothing.
Fasting is a part of Indian culture and it is believed to stimulate a harmonious relationship between the soul and body.  The question now is it healthy to pregnant women?  It isn't.  Doing this during pregnancy can be dangerous to the mother and the baby.
Pregnancy is a very delicate thing.  If you love yourself and the baby, you need to be careful enough in order to survive the hardships during conception.  After all, your sacrifices will be rewarded once you see your precious little one.
You might also like
Dating Tips for Indian Men
Indian guys are handsome.  Just like Indian women, they have unique facial features that really catch...