Neutrogena Pore Refining Toner Review
posted by: Feby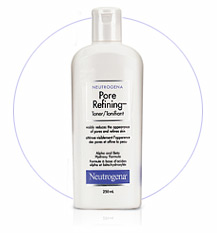 Are you tired of trying different creams and toner and still doesn't get that smooth and clear skin?   Are you tired of facing the mirror everyday and see the imperfections on it?   Are you exhausted of hearing those promises made by beauty products but actually don't see the outcome?   Well don't be sad and blue, the answer to that problem is already here:   Neutrogena pore refining toner.
Neutrogena pore refining toner has alpha and beta hydroxyl formula that helps wash away the dirt as it penetrate to  the deepest layer of your skin to reduce large pores and leave your skin soft.   It also eliminates dead skin cell that can make your skin dull and uneven.   This toner won't dry your skin.   It is safe and effective to use.   The ingredients have been tested by dermatologist.   It is non-comedogenic, so it won't clog your pores but it can minimize pores instead.   It can tighten skin and dries out pimples.   For best results, use Neutrogena sunscreen to protect skin from the direct heat of the sun.
Neutrogena pore refining toner has the following ingredients: Water purified, SD alcohol 40, Glycolic Acid, Witch Hazel, Sodium PCA, Salicylic Acid, Aloe vera, Leaf Extract, Eucalyptus, Peppermint extract, Allantoin, Sodium Lactate, PEG 40 hydrogenated Castor Oil. If you are allergic to any of these ingredients, you can discontinue and ask your dermatologist what product is best for you.
The time has finally arrived to end your sorrow about beauty products. Neutrogena pore refining toner not only promises but proves their effectiveness to those who has already tried this product.   So what are you waiting for? Buy now!   It is already out in the market and costs around $8.00. It's so affordable and yet so effective.   Go try it for yourself.
You might also like