How to Use Dental Cement
posted by: Rio Dianne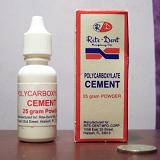 In an unexpected situation wherein the crown of your teeth accidentally fell off or maybe it's the veneer or the bridge, then the dental cement can come to the rescue. Using dental crowns cement is actually among the most popular dental supplies to provide temporary relief to the affected tooth, though this is also used for orthodontic works permanently.  This is widely used alongside dental adhesive and dental glue.  This is actually formed by hard and brittle materials of mixing powder and liquid.  And though, this can be done by yourself since it's widely available in different brands like Dentemp and in drug stores such as Walgreens, a visit to your dentist as possible is better to tend to the issue fully. Let's see how to use dental cement in emergency situations. Read the complete article below.
How to Use Dental Cement
Some temporary dental cement usually has provided proper usage on how to use it. Therefore, read the instructions carefully on how it can be used.  But generally, here's how to do it.
Clean the crown of your tooth after it has fallen off with your toothbrush. Get rid of any cement left from the crown.
After you've finished cleaning it thoroughly, try to put it back to the tooth and make sure that it's fit perfectly.  Try closing your mouth to make sure that it doesn't interfere with your teeth in the upper area.
Try to keep the area dry as possible.
Mix the dental cement based on the manufacturer's instructions.
Now, apply and fill the crown on the each side and base with the mixture.
Let the cement sit on it for a few minutes by biting down.
Clean your mouth especially the tooth area with a toothpick or floss to make sure that no cement's left on it.
There you go.  That is how to use dental cement.  Again, this do-it-yourself procedure is not made as substitute to your dental procedure, but just as an aid as a temporary measure to lost filling or crowns.
You might also like