Cream of Tartar for Acne – Home Remedy for Pimples
posted by: Rio Dianne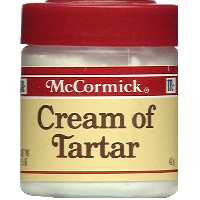 If you think that cream of tartar is only used for cooking and other household applications, then you're wrong. It's because cream of tartar can also be used to finally get rid of pimples, zits, and blackheads. What? Cream of tartar for acne?  Though, it may sound new to you, yes, some have proven its effectiveness when it comes to improving your skin.  If you're tired of using what you thought are some of the best acne program, then try this home remedy which has been making a name to do wonders for treatment of pimples naturally by getting rid of your body toxins.
What is Cream of Tartar ?
It is a white and odorless powder used for a number of culinary applications way before baking soda and baking powder were available.  The common name for this powder is potassium hydrogen tartrate.  It is usually sold in the baking section and spices of grocery stores in line with alum powder. This powder is basically an acidic salt which makes the cream effective as cleaning agent that have been used to relieve acne breakouts.
Treatment
It is taken once a day with a mixture of 1 teaspoon cream of tartar and 8 ounces of water.
How Does it Work ?
It woks by removing body toxins and bacteria which causes pimple. Excessive sebum production in the facial area is also controlled by blocking the production of blackheads and whiteheads. But, this method requires you to use it long term as it doesn't improve pimples overnight.
For some, cream of tartar for acne worked for them. Why don't you give it a try, too?
You might also like