Yang Chow Fried Rice Recipe
posted by: Feby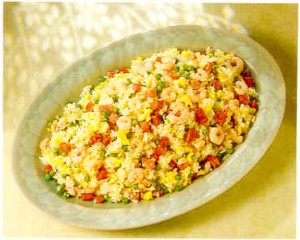 Are you tired of your usual fried rice in the morning?  Do you opt for a new taste? If so, it's time to switch to new tasty fried rice- yang chow fried rice. This time you don't need to go to famous yang chow restaurants just to have a taste of this, but instead, it's now available in your own kitchen.  Just simply follow a few steps below and in no time you can enjoy your home made Yang Chow at your own dining table. This recipe is so easy and quick to prepare, so read on and learn how to cook this dish in Filipino way. Here's the Yang Chow Fried Rice Recipe:
Ingredients:
3 cups of cooked rice ( preferably refrigerated overnight)
½ cup of pork  (best if  barbecued)
10 pieces of shrimps (shelled)
1 teaspoons of salt
1 tbsp of soy sauce or fish sauce
½ teaspoon of sugar
1 ½ tbsp cooking oil
Young Onion ( chopped)
Ginger
4 cloves of minced garlic
½ cup of green peas
1 or 2 eggs
Procedure:
First, pre heat the pan then put the cooking oil. Sauté garlic and ginger until golden brown. Then add the shrimps and cook for few minutes. Remove from the pan and set aside.
In the same pan, fry the scrambled egg. Slice into pieces when cooked and add soy sauce or fish sauce, sugar, and salt.  Then add the rice. Mix well.
After few minutes, you may add pork, green peas and the set aside shrimp into the pan. Stir fry for few minutes until it's already cooked and mixed well.
Add the chopped young onion and serve.
Remember that in cooking, you don't need to splurge so much just to serve a healthy meal or menu. All you need is a simple skill and a recipe that can cater your panlasang pinoy. Keep posted on my next recipe online. Enjoy your meal!
You might also like
How to Cook Pork Tonkatsu
Nowadays, we don't need to travel abroad to have a taste of their famous delicacies and recipes because...

Philippine Exotic Food
Philippine island is not only known for its white sand beaches, but it is also known for its exotic food....