How to Make Quick Icing
posted by: Rio Dianne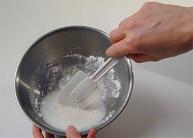 As an avid watcher of the Food Network, I've always wanted to bake cake and make my own icing by myself especially now with the festive season just around the corner.  I've realized that I haven't completed my list of the food items that I'm going to prepare for the holidays yet.  Since I wanted to add a little spice on the season by trying to make homemade cakes with icing as well, I looked for some recipes on the Internet on how to do so.  Are you just like me?  Then why not make an effort to do one and learn how to make quick icing which you can share with your family and friends. Below are some of the recipes I've found which can be done at home.
Here's How You Can Make Quick Icing
White Quick Icing: Mix 5 tablespoonful of powdered sugar and the white of an egg in a bowl. Blend them evenly and spread it on the cake. Allow the icing to dry.
Chocolate Icing: Put 2 cups of sugar, a half cup of cocoa, 2/3 cup of milk, and a half cup of butter in a pot and mix the ingredients well. Put the pot on the stove until it begins to boil, and remove it once it has started to boil. Stir in the vanilla and butter. Allow the icing to cool for atleast 20 minutes and then beat it until you achieve a thick consistency and spread it on the cake.
Buttercream Icing: Combine 3 cups of confectioner's sugar and one third butter in a large bowl. Add one and a half teaspoon of vanilla extract and a tablespoon of milk. You can also beat in using an electric mixer on low speed. Continue beating it until you've achieved a smooth frosting.
Vanilla Butter Glaze Icing: Mix 2 cups of powdered sugar with 6 ounces of softened butter and a teaspoon of vanilla extract in an electric mixers et to medium speed. Continue beating for 5 minutes until you've achieved the desired consistency. Spread the icing on the cake with a knife.
These are some of the recipes on how to make quick icing.  These aren't just ideal for cakes but they will make good icing for cookies as well.  Moreover, you can play with some of the ingredients by adding in caramel, cinnamon, or whatever suits your preference.  Was the article helpful? Which recipe did you like best?  Enjoy and have a festive treat!
You might also like