How to Make Graham Cake with Mango
posted by: Feby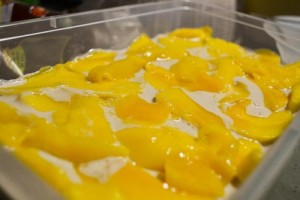 Holiday  season is once again approaching. It's the best time to bond with your family and friends. When we talk about holidays and family gatherings, we often link it to delicious food. It's just so common for Filipino families to celebrate any occasion with lots of food on the table. Before the holiday comes in, you should prepare everything, from gifts up to the food that you are going to serve on that day. Do you have a list of food to prepare already? Have you listed cake on the list of your menu but don't know how to bake or you don't have enough budget to do so? Well, in this article, I'm going to share to you how to make refrigerated cake. You read it right- Refrigerated cake.
Refrigerated cakes don't need an oven or very complicated steps just so you can cook or bake it. . It is one of the easiest Filipino recipes you can learn. Even kids can help you with it.
So, here are the ingredients and things you need to prepare and do to make this refrigerated cake:
Graham Cake with Mango
Ingredients:
12 pieces or 1 pack of graham crackers
500 ml of all purpose cream
14 oz or 1 can of condensed  milk
2-3 ripe mangoes
Procedure:
In a mixing bowl, mix all purpose cream and condensed milk. You can use an electric beater to achieve the fluffiness of the mixture. If you don't have any at home, just use a whisk and beat well. Set aside.
Peel off the ripe mangoes. Remove from the seed. Slice. Set aside.
In a baking pan, layer graham crackers then pour a little amount of cream mixture. Repeat the procedure until you have layered all the crackers and cream. Make sure that the cream on top is thicker than the cream between layers.
Place the sliced mangoes nicely on top of it.
Refrigerate or chill graham cake for one day or at least a few hours before serving.
Serve as a dessert or a snack.
This is an easy-to-do cake and the most affordable dish or dessert that you can serve during holidays. You can also make a lot and give as a gift to your friends.
Enjoy this deliciously made Filipino dish or dessert anytime of the day and anytime of the year.
You might also like
How to Make Quick Icing
As an avid watcher of the Food Network, I've always wanted to bake cake and make my own icing by myself...

Friends For Life
I couldn't imagine life without my friends. Aside from my family, friends are there to make your days...

How to Cook Hamonado
Hey, are you already excited for the Christmas season?  September has already passed and sooner, you'll...