How to Make a Perfect Chuck Roast
posted by: Gretchen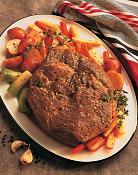 Chuck roast ?  Uhmm, yummy!  It is one of the finest dishes known to man.  It may also be called rump roast.  But can you make your chuck roast perfect?  If you can't, then this post is really for you.  We are going to discover the magic and art of making a perfect chuck roast.  Let's do it together.
Let's get started with the things that we are going to need including the ingredients.  Here they are:
Chuck Roast Ingredients
Crock pot/ covered roasting pan and pre-heated oven (325 degrees).
Heavy skillet
4-5 lb. chuck roast (4-6 servings)
1 small quartered onion
1 cup flour for dredging
Meat seasonings
1 cup water or beef broth
2-3 tbsp. of oil
Recipe Instructions
Choose boneless chuck roast with good ration of meat-to-fat.  Pick fresh or slow-thawed roast to have best results.
Season it with seasonings that have good quality.  Beef brining and rubs work well.  You can also use Worcestershire sauce and let the liquid seasoning or marinade sit on the meat for a few minutes.
In a roasting pan or skillet, heat the oil in medium-high heat before putting the chuck roast to prevent sticking.  Add quartered onions and 1 cup of water or beef broth.  To create an excellent pot roast, you need to dredge it in flour and make it brown on medium heat to lock in the flavors and juices.
Cooking time takes 5-10 hours in the crock.  Cook it in low heat until the roast is very tender.  If you use the stove cook it to perfection at 325 degrees or 40-60 minutes per pound in the oven.  You can also use your slow cooker.
Add vegetables like carrots and potatoes.
Wait for 10-15 minutes before serving.
Sounds easy, right?  It is an ideal recipe to make everyone stay at home for the weekend.  Enjoy your favorite roast!
You might also like
Leighton Meester Boyfriend
Are you a fan of Gossip Girl? Do you watch every episode aired on TV? If you are, then welcome to the...

How to Cook Chicken Adobo
Filipinos are not only known for being hospitable but also how they love to cook food and eat.  Filipino...