How to Cook Pork Kebab – Pork Kebab Recipe / Ingredients
posted by: Feby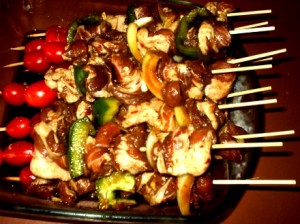 Kebab is a kind of dish originated from Persia but has reached to the Philippines cooked in a modified Filipino way. Kebab is a recipe that uses skewers to cook meat and usually fill bell peppers and onions in between. You can use beef, lamb and pork in this dish. Kebab has a counterpart in Filipino's kitchen and that is what they call barbecue.
In this article, I will guide you on how to cook pork kebab easily and deliciously.
Pork Kebab Ingredients:
Here are the ingredients you will need to make a delicious pork kebab:
I kilo pork loin or pork pigue, cut into serving
1 bulb of garlic, crushed
6 onions
3 green bell peppers, sliced into squares
3 red bell peppers, sliced into squares
1 bottle of barbecue sauce ( ready mix)
1 small can of pineapple juice
Cooking oil
Sweet and spicy ketchup
Pepper
Salt
Cooking Procedure in Order to Cook Pork Kebab:
In a non metallic bowl, put the pre cut pork loin, barbecue sauce, pineapple juice, garlic and pepper. Mix well and marinate for an hour or more. Cover the bowl and set aside.
Next, get ready with your skewers or barbecue sticks. Remove the meat from the marinade and put the meat on the sticks and alternate it with onion and bell peppers. Save the marinade for grilling later on.
Then, prepare your griller. Make sure your griller is hot. Brush some cooking oil into the griller to avoid the meat from sticking into it later on. Grill the meat on skewers and brush the marinade mixed with ketchup once in a while to make it tastier. Repeat this instruction until the meat is already done.
Finally, put the entire cooked pork kebab in a serving platter. Serve with hot and spicy sauce on the side.
Cooking pork kebab is as simple as saying your ABC. You don't need to go to Persia and to the Middles East countries just to taste this food, all you have to do is print this recipe out and make your kitchen busy.
You might also like
How to Cook Pork Humba
Adobo is the most popular Filipino dish in the Philippines. A lot of foreigners have tasted this dish...

How to Cook Pork Sisig
It's spicy and fatty, yet it's delicious!  Well, I'm talking about the pork sisig, a dish that...