How to Cook Pork Sisig
posted by: Rio Dianne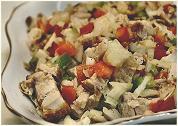 It's spicy and fatty, yet it's delicious!  Well, I'm talking about the pork sisig, a dish that is popular in the Philippines.  This meat dish is not just popular among the Filipino people, but as well as the foreigners who are in the country.  It is best paired with beer, making it the best "pulutan" when out partying with friends.  Also, sisig has become one of the most sought after viand nowadays during lunch or dinner, and a lot of Filipino diners such as Sisig Express have been booming everywhere.
This is something really delicious, spicy, and sizzling, that's why a lot of people have been asking for recipe on how to cook sisig pork.  So, how do we go about cooking this dish right in your own kitchen?  Here's how.
How to Cook Pork Sisig
Ingredients :
1 ½ kilo pork head
¼ cup liver (grill it and dice)
2 onions; minced
1 clove garlic; minced
2 pcs. red pepper; minced
6 pcs. Hot chili peppers; minced
1 cup vinegar
1 ½ tbsp seasoning
2 tbsp cooking oil
1 tsp brown sugar
1 cup beef stock
Salt and pepper
How to Make It
Grill/ roast pork head and liver to make sure it's cooked and the hair is removed.
Boil or broil pork head.  How long to boil?  Boil until the meat is tender.
Cut the meat in a small, square size.
In a fry pan with heated oil, sauté onions, garlic, red pepper, liver, and pork head.
Pour in seasoning, brown sugar, black pepper, and salt to taste.
Pour in beef stock and let it cook until the meat is tender.
Add hot chili peppers and serve.
Sisig can also be made out of bangus, tofu, chicken, chorizo, and tuna.  Finally, adding raw egg on this sizzling hot dish and a dash of calamansi will surely heighten the flavor o this food.  Enjoy!
You might also like
How to Cook Bicol Express
I am a native Ilocana from the Philippines, I am used to pinakbet, dinengdeng, mostly with bagoong (fish...