How to Cook Lechon Kawali – Lechon Kawali Recipe / Ingredients
posted by: Feby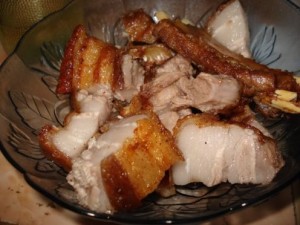 The Philippine country is known for its tasty lechon. Lechon is a roasted pig that is characterized by its crispy and very delicious meat and skin. It is always present on a party table whenever there is a big celebration such as Christmas, New Year, birthdays and other events and celebrations. However, not all of us can afford to buy this Filipino dish or food because it's a bit expensive. Don't be sad if you are one of those who can't afford it because there is this version that you can prepare anytime at an affordable budget and that is lechon Kawali.
Maybe you have heard about this recipe already but still wondering how to cook or prepare this menu. Don't worry because in this article, I am going to teach you how to cook lechon Kawali. This is truly one of Pinoy's favorite. InNorthern Luzonthey call this bagnet. So, here are the ingredients and steps to do.
Lechon Kawali Ingredients:
1 kilo of pork belly ( liempo)
1 bulb of garlic, crushed
½ tablespoon of pepper corn
Salt
Cooking oil
Water
2 tablespoons of vinegar
Special seasoning ( e.g. magic sarap) *optional
Cooking Procedure:
Wash pork well and cut into desired size.
Put the pork into a large pot. Add garlic, pepper corn, salt, special seasonings, vinegar and water. Bring to boil.
Cook the pork until tender. Once it's already tender, remove from pot. Place it in a large bowl with paper towel to remove excess water.
In a large frying pan, put a large amount of cooking oil. Deep fry the cooked pork until golden brown or until the pork skin looks crunchy and crispy.
Place the crispy pork belly into a plate with paper towel to remove excess oil. Lechon Kawali is done !
Chop and serve with steamed rice and liver sauce (Mang Tomas) on the side.
There you have your simpler and cheaper version of lechon. It's another mouth watering lutong pinoy and it is always a must-try. So, what are you waiting for? Print this article now and make your own version of lechon Kawali- the pinoy style.
You might also like