How to Cook Hamonado
posted by: Rio Dianne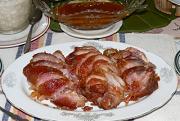 Hey, are you already excited for the Christmas season?  September has already passed and sooner, you'll realize it is already the Christmas season. For all Filipinos, Christmas is the time for giving and sharing.  Moreover, it's a time when most family members gather in one house to celebrate the season together.  And having to celebrate means… festive treats.   Getting even more excited?
Among the festive-get together, there is always a lot of Filipino food that we all look forward to which includes Pork Hamonado and Morcon along with other roast-and-grill menus.  These are traditional dishes which you can find on the table during this party season.  Say, the Pork Hamonado which is merely pork sweetened in pineapple juice.  And everyone just loves this.  If you're wondering how to cook Hamonado, then you've come to the right post as we're going to give you a recipe in this post today.  Just stick with us.
How to Cook Hamonado
Ingredients :
1 kilo pork pigue or pata
1 cup brown sugar
2 teaspoons praque powder (or 1/8 teaspoon salitre)
1 can pineapple chunks (drained)
1 can pineapple juice
Salt and pepper
Soy sauce
Cooking oil
How to Make It :
Mix the sugar, pineapple juice, praque powder or salitre, and soy sauce in a large bowl.
Rub the mixture on the pork for about 1 to 3 hours.  For maximum result, you may want to marinate it overnight.
Drain the pork form the mixture and set aside the marinade.
In a hot pan with oil, fry the marinated pork until it turns golden brown.
Pour in the remaining marinade sauce together with the pineapple chunks.  Let it simmer for 10 to 15 minutes or wait until the sauce has thickened.
Add salt and pepper to taste.
Serve.
If you want the pork butt or loin to be more tender, you can boil or broil it before frying it on the pan along with the mixture.  And that is how to cook Hamonado.  The recipe is just easy, right?  Enjoy the holiday season and be smack dabbed with the festive treats!  Enjoy!
You might also like