How to Cook Chicken Afritada – Best Chicken Afritada Recipe / Ingredients
posted by: Feby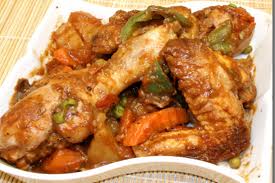 Are you worried about what to prepare on a simple family day or maybe you just want to impress your boyfriend for a cooking skill?  Then you are on the right track. This article is here to help you with that. All you have to do now is read this article properly, follow the steps and learn how to cook the best chicken afritada recipe- pinoy style. It's one of the many Filipino dishes that one must try.
Best Chicken Afritada Recipe- Pinoy Style
Ingredients:
½ kg. Pre-cut chicken of your choice
3 medium sized potatoes
1 large carrot
1 green bell pepper
1 red bell pepper
Chicken broth cubes (for a tastier chicken)
1 medium sized Onion
3 cloves Garlic
Medium sized pouch tomato sauce or paste
3 tablespoons of Liver spread
Pepper
Salt or fish sauce
Cooking oil
Water
Procedure:
Pre-heat the sauce pan. Put a little cooking oil. Sauté garlic and onion until golden brown.
Put the chicken into the pan, sprinkle a little pepper and salt. Cook until the chicken is slightly brown.
Add water and put broth cubes. Bring to boil.
After a few minutes, put the sliced potatoes and carrots in it. Simmer until the vegetables are half cooked.
Then, add tomato sauce or paste and liver spread. Simmer for 5 minutes.
You may now put the green and red peppers and wait for 2 minutes then you're done!
Finally, serve this with steamed rice.
Additional tip:
For a tastier Chicken Afritada, you can marinate your meat with pineapple juice before cooking it. You can also add some hotdogs in it and chilli pepper (jalapeno) for spicy taste.
This is one of the many dishes being served in the Philippines that everyone should try. This is really a perfect description of what they call panlasang pinoy or lutong pinoy that everyone is craving for. So, wear your lovely aprons now and let's get cooking.
You might also like