How to Cook Beef Pochero – Beef Pochero Recipe / Ingredients
posted by: Feby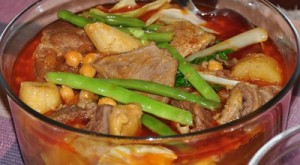 Philippines were invaded by the Spaniards for more than three centuries. So, it is not so surprising at all if until now you can see Spaniards' influence in this country. From the language and up to the food that Filipinos eat, they have a touch of Spaniards. Some Filipino dishes originated from Spain but later on Filipino style is being incorporated with it to taste like they are our own and to make it more appealing to Pinoy's taste buds.
One example of what I am talking about is beef pochero. Pochero comes from the Spanish word puchero which means stewpot. This is true enough because beef pochero is a stewed beef with vegetables and tomato sauce in it. Anyway, let's all put back the Spaniard's time by learning how to cook beef pochero.
Beef Pochero Ingredients:
500 grams of beef ( short ribs)
1 piece of Chinese sausage, sliced diagonally
2 medium block of tofu
2 medium sized potatoes, quartered or cubed
3 pieces of almost ripe bananas ( saba), sliced
¼ cup of garbanzos ( cooked)
250 grams of tomato sauce
3 heads of pechay
1 large onion, sliced
Salt
Pepper
Cooking Procedure:
Before starting to cook the beef pochero, prepare the tofu first. Deep fry the tofu and slice. Set aside
In a stew pot, put about 6 cups of water into it, add beef and onion. Bring to boil. Cook the meat until tender.
Next, add potatoes, bananas or saba and garbanzos. You may sprinkle salt and pepper to season it. Simmer and wait until the vegetables are cooked. Remember not to overcook them.
Then, add the Chinese sausage and pour tomato sauce into it. Let it boil in a very low heat. After ten minutes, you may add now the fried tofu and pechay. Simmer for few minutes.
Finally, remove from the heat. Transfer it into the serving bowl. Serve with rice.
This Filipino dish or food is best served on special occasions. This is not just delicious but also packed with nutrients. You may print this out now and try it for yourself.
You might also like