How to Cook Baked Macaroni – Baked Macaroni Recipe / Ingredients
posted by: Feby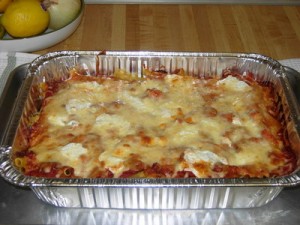 Holidays are once again creeping thru our doors. These are the days where we find time just to be with our loved and friends. This is very true in the Philippines. Filipinos are so family oriented that they really find time to bond with their family on special occasions such as Christmas and New Year Day.
Moreover, one of the favorite places where they bond is in the kitchen. Filipino people love to eat and cook. Though they have authentic cuisines/recipes already, they cook westerner's recipe in Filipino way on special occasions.
In this article, I'll be sharing one Italian dish but baked and prepared in Filipino way. This is perfect for any occasion. Forget about white sauce recipe this time; opt for the red one because that is the color of Christmas. So, here are the ways on how to cook baked macaroni.
How to Cook Baked Macaroni – Filipino Style
Ingredients:
450 grams of elbow macaroni
For the Meat Sauce:
3 tablespoons of butter
500 grams of ground beef
1 and half cups of canned tomatoes, diced
1 medium sized onion
2 medium sized green bell pepper
Half cup of tomato paste
1 teaspoon of paprika
1 tablespoon of sugar
1 pc of beef cube
1 cp of water
Salt
Pepper
For the Mornay Sauce:
3 tablespoons of butter
3 tablespoons of flour ( all-purpose)
2 cps of fresh milk
¼ teaspoon of salt
1 oz. of parmesan cheese, grated
1 oz. of sharp cheddar cheese or Velveeta Cheese, grated
PROCEDURES:
For the elbow macaroni, just simply follow the cooking steps that you can see on the package. But don't overcook the macaroni, remove from pot when it's almost cooked or half cooked, to avoid it from being overcooked when it's been baked.
For the Meat Sauce:
Preheat the sauce pan and put the butter. Add ground beef and cook until slightly brown.
You may add the green bell pepper, onion, tomatoes and stir fry until the vegetables are a bit cooked. Put paprika, tomato paste, beef cube and water. Stir and let it boil or simmer for about twenty minutes.
Add sugar, pepper and salt to taste. Mix well and turn off the heat.
Set aside.
For the Mornay Sauce:
Preheat pan in medium heat and melt the butter.
Add flour and constantly stir it until it looks yellow.
Add the whisked milk slowly and stir until the sauce becomes thick. Stir slowly until it boils.
Sprinkle the salt and pepper and simmer for few minutes.
Put the grated cheese in it and stir until they melt and mix into the sauce.
Set aside.
Baked Macaroni Cooking Procedure:
In a baking dish, combine the meat sauce and the cooked macaroni. Make sure that these two are mixed and blended well.
When you are done with the blending and mixing, arrange the mixture nicely in a baking dish. Pour the Mornay sauce on it.
Preheat the oven into 180 degree Celsius and bake for 15 minutes.
Remove from oven and let it cool for few minutes. Transfer it into a serving plate.
Serve or share.
If you want to make your baked Mac tastier you can add something as toppings like ham and more cheese on top.
If you are asking if you can make this kind of dish without oven and through microwave, I don't it's possible. Anyway, enjoy your holidays with this Filipino style dish.
You might also like