How to Cook Arroz Valenciana – Arroz Valenciana Recipe / Ingredients
posted by: Feby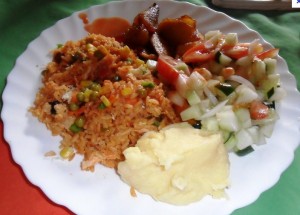 Arroz Valenciana is layman's version of Paella. Paella has more ingredients and more on baking while Arroz Valenciana has fewer ingredients and the procedure of cooking is just basic usage of the stove. The Filipino version of this recipe is very delicious and healthy. It is an all in one meal, because everything is there- viand and rice in one. This is best served during holidays, special occasions and family day.
If you are wondering how to prepare the recipe that I am talking about, just read on. Below are the ingredients and procedures you can follow and do. Here are the ways on how to cook Arroz Valenciana.
Arroz Valenciana Ingredients
1 cup of glutinous rice
1 cup of white rice
250 grams of shrimp
250 grams of pork liver
2 pieces of chorizobilbao
5 tablespoons of cooking oil
250 grams of chicken
500 grams of pork
2 bell peppers ( green and red)
1 onion
3 cloves of garlic
1 pinch of turmeric
Black pepper and peppercorn
Green peas- one can
Paprika
Bayleaf
2-3 eggs, hard boiled and sliced
Salt
water
Procedures:
Make broth out of pork, chicken and shrimp. Boil the pork, chicken and shrimp in a large pot with about 5-6 cups of water, onion, peppercorn, bay leaf and salt. When they are already cooked, remove them from the stock in the pot. Slice the chicken and pork into cubes or bite size. Remove the shrimp's shell and slice too. Set aside.
In a large pot with the stock, put the washed glutinous and white rice into it. Add the turmeric. Bring to boil. Make sure to stir once in a while to avoid the rice from sticking to the pan and burn it. Cook well.
In a pan, fry the chorizo and pork liver. Remove from the pan when they are already golden brown or cooked. Set aside.
In a large pan or sauce pan, sauté garlic and onion. Sprinkle a little amount of pepper. Add the sliced and cooked chicken, pork and shrimp. Put the bell pepper and green peas. Stir fry or sauté for few minutes.
Then you may now add the cooked rice into the large pan. Stir until they are mixed well. You may also add the remaining ingredients such as chorizo and pork liver. Blend all the ingredients well until they are cooked and blended well.
Turn off the heat and place Arroz Valenciana in a clean plate. Garnish with hard boiled egg and parsley on top of it. Serve!
If you are thinking that this recipe or menu is a bit expensive because of the ingredients or maybe you are thinking that this is too difficult to prepare, well all I can say is that, this Filipino dish is so worth the expenses and preparations. This recipe is so healthy and delicious that your family and friends will surely love. Sometime in cooking, you have to splurge a bit to cook like a pro and to show your loved ones how much you love them by the food they eat. So, let's get cooking!
You might also like