How to Cook Adobong Tahong
posted by: Feby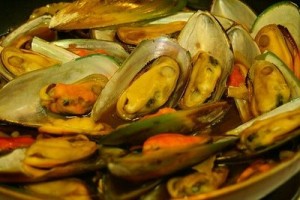 Philippine cuisine has been gaining popularity among other nations because of its distinct taste and because of its art on preparing their food.   It may lack vibrance when it comes to color but the taste is so irresistible that you will keep coming back for more.   When we talk about Filipino recipes, adobo will come to your mind first.   But this time, let's ditch the meat but let's focus on shellfish instead.   Are you surprise that I mentioned shellfish for adobo recipes?   Well, not anymore because today I'm going to share a very tasty and yummy recipe just for you to cook and try.   The steps are really easy so sit back and relax.   Don't panic.   I'm going to help you on how to cook adobong tahong
Adobong Tahong Recipe
INGREDIENTS:
These are the ingredients that you have to prepare.
1 Kilo of tahong (make sure you clean them well.)
1 small thumb size of ginger (sliced)
4 cloves of garlic (minced)
1 medium sized onion (sliced)
1 chili pepper
¼ cup vinegar
¼ cup soy sauce
Bay leaf
Pepper
Cooking oil or butter
Cooking Procedure
Boil mussels or tahong until the shell is open and you can remove the mussels from its shell. Remove the mussels from the shells. Set aside.
Preheat a pan. Put a little amount of cooking oil or butter.
Sauté garlic, onion, ginger. Add the mussels or tahong into the pan.
Add soy sauce, vinegar, pepper, bay leaf and chili pepper. Let it simmer for 5-10 minutes.
Serve with plain rice.
Philippine cuisine is really easy to prepare. So, why not give it a try and be satisfied? Keep posted for some Filipino recipes in my next article. Hope you learned something today.
You might also like
How to Cook Adobong Manok
You are not a full-blooded Filipino if you do not know how to eat adobo whether it's pork, chicken...

Philippine Exotic Food
Philippine island is not only known for its white sand beaches, but it is also known for its exotic food....

How to Cook Adobong Baboy
Filipinos are fond of discovering new dishes, adapting and creating variations to every recipe. That...