Best Chocolate Chip Cookie Recipe Ever
posted by: Feby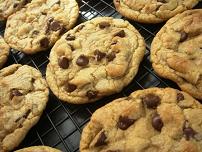 When I was a kid I remember how I looked forward to every trip I made to my grandmother's house just to taste her chocolate chip cookies.   For me, it was the greatest chocolate chip cookie I have ever tasted but of course that's when I was a kid.   Well, every food for me is always good.  That's how I simply love to eat and be adventurous when it comes to food.   Chocolate is one of the best things that kids love.   So we want to treat your kids with the world's best cookies then I'm going to show you how to make one.   The cooking or baking procedures are really easy.
Here is the Best Chocolate Chip Recipe Ever from the Top Chef Jamie Oliver :
CHEWY CHOCOLATE CHIP COOKIES with NUTS
Ingredients :
2 ½ cups All Purpose Flour
1 ¾ cups light brown sugar (packed)
1 cup walnuts or pecans (chopped)
2 sticks butter (unsalted and softened)
1 tsp baking soda
1 tsp salt
2 eggs
1 tsp vanilla extract
12 ounce chocolate (small chucks but larger than a chocolate chip)
STEPS:
Mix baking soda, flour, and salt then set aside.
Pre heat the oven for about 350F.
Mix sugar and butter in a dry bowl using an electric mixer or a whisk until it has become light fluffy. When you reached the desired mixture add vanilla and eggs then mix them again. Add the mixture of baking soda, flour and salt. Continue to mix them using electric mixer until the mixture is already smooth.
Using a spatula, fold in the nuts and chocolate chunks.
Use a tablespoon to scoop a mixture to form the cookies. Make ball shape dough on your palm and place them in a cookie sheet. Be sure that the dough is about one inch apart. Bake it for about 12-15 minutes until the cookies are brown.
Let it cool for few minutes then serve.
For more recipes you can buy a very nice cookbook and try cooking them for delightful desserts.  You can also try chewy oatmeal if you want to cut down some calories but don't want to avoid desserts.
You might also like