Side Swept Bangs for Round Faces
posted by: Rio Dianne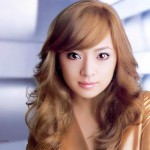 Identifying what your face shape is the key on how to get the perfect style for hair.  And after you've met the challenges of choosing what haircuts could possibly fit you, the next thing you have to do is to accessorize the hair.  To do this, you can add a little spice by adding bangs.  Bangs hairstyles are always included in a lot of hairstyle recommendations.  While most women think that bangs only work for those types with oval or long faces, girls with round faces could be seen sporting with bangs, too.  Side swept bangs for round face, is it any good? Find out the answers below.
Side Swept Bangs for Round Faces
Basically, if you have a round face, your concern is to divert the attention by keeping your face look longer and offsetting its roundness. This can be done by creating less volume on the face area.  Hairstyles such as the long bob hairstyle which falls below the chin and haircut with soft layers just at the length of your shoulders are good choice of hairstyles for round faces. To make it more flattering, bangs are an alternative. Hairstyles with bangs have the ability to morph the haircut into something really fashionable.  Bangs on the center parts are not suggested since it tends to make a woman's face wider.  Side swept bangs for round faces can actually do good as it softens the roundness of the face.  This creates diagonal lines that again soften your facial features.
Well, that's it.  Now you know that side swept bangs for round faces are a good idea. Meanwhile, take a look at some pictures of the celebrities who don the same face shape as you.  Good luck on your quest!
You might also like