Invisalign Braces Cost in the Philippines
posted by: Gretchen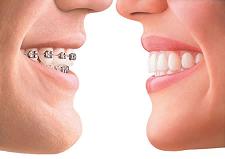 Having a perfect set of teeth is wanted by most people.  Why not?  It gives you a better and sweeter smile.  This is the reason behind the creation of braces, retainers, and dentures.  Braces are used to align teeth and dentures are used to replace teeth.  Due to the advancement of technology and the creativity of the human mind, braces just keep on improving.  Now we have the so-called invisalign braces.
What are Invisalign Braces ?
Invisalign is a series of clear, removable teeth aligners which are used by orthodontists and dentists as an option to conventional metal dental braces. You can see pictures of this treatment online.
Advantages
Transparent: It's more difficult to notice the presence of aligners. You can correct your teeth without letting other people know you are actually doing it.
Comfortable to wear: The aligners can be removed so you can eat without the burden of metallic braces.
Safer: These aligners will keep you away from the side effects of traditional fixed instruments.
Quicker: Treatments of invisalign are faster and give better results.
Disadvantages
Since these clear braces are not fixed, they are not continually treating or fixing the teeth.
Invisalign treatment is expensive.
Allergies may occur.
Most people who have tried this kind of treatment said there's a big improvement on their dental problems.  Their pictures before and after the treatment prove how good this treatment is.
Invisalign Braces Cost in the Philippines
For people who might wonder about the invisalign cost in the Philippines, Coronel Dental Spa offers invisalign express for Php150, 000, invisalign anterior treatment for Php175, 000, and invisalign full treatment for Php200, 000. Prices may vary though. For further information, call or visit some dental clinics in Manila, Phils. that offer this kind of treatment.
May you find the right clinic for your treatment!
You might also like