Clearasil Overnight Wash Review
posted by: Gretchen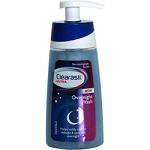 Having skin that glows is an asset.  It catches and attracts the attention of men. However, not everyone has this type of skin.  Even those who try different cosmetic items sometimes fail to achieve it.  It could be due to the type of skin you have or could be the effectiveness of the cosmetic product that you use.  There's really a need for you to keep on trying until you find the right product for you.  In this post, we are going to give you a brief review of one cosmetic item called Clearasil Overnight Wash. Look at the detailing below:
What is Clearasil Overnight Wash?
It is dermatologist and clinically tested to help visibly reduce redness and pimple size by morning, to have clearer skin. It is characterized by a creamy texture that washes away dirt, bacteria, and oil, leaving your face clean. It is formulated to work continuously through the night to help fight acne when your skin is actively in the process of cell renewal and regeneration. You can have it at $22.00.
What are the active ingredients of Clearasil Overnight Wash?
Active Ingredient: Salicylic Acid for acne medication
Inactive Ingredients: Water, Glycerin, Sodium Chloride, Sodium Laureth Sulfate, Coco-Glucoside, Cocamidopropul Betaine, PEG-200, Laureth-4, Hydrogenated Castor Oil, and others.
Directions in Using the Product
Wet face.
Shake product and pour some amount onto hand.
Massage it on face and neck.
Wash off with water and dry.
Use it before going to bed at night.
Important Reminders
Limit use to the face and neck.
Store in a cool dry place.
Avoid contact with the eyes.
Stop using it if irritation develops.
Skin care is important to have healthy and glowing skin.  Try this to find out if it really works.
You might also like
Blemish Balm Cream Review
Have you heard a lot of testimonials about the Blemish Balm Cream? Did it catch your attention or curiosity?...