Blemish Balm Cream Review
posted by: Gretchen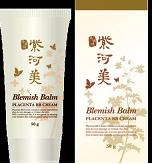 Have you heard a lot of testimonials about the Blemish Balm Cream? Did it catch your attention or curiosity?  Do you feel like trying it yourself?  Well, before you even try, pay attention to a simple review of this product for you to get some info about it.
What is the Blemish Balm Cream?
According to a source, Blemish Balm or BB Cream is a cosmetic product sold in Korea.  It was initially used for the purpose of helping laser surgery patients.  It helps protect, soothe, and refine sensitive skin while providing light coverage for post-laser marks or scars, acne, and other skin blemishes. It was originally formulated in Germany and now Asian women are crazy over this cosmetic item.  It is gaining popularity in Korea and Japan and many celebrities are using it.  It has reached other countries like Australia, UK, and Canada.
What are the Best Brands of BB Cream in Korea?
According to a source, the top BB cream in Korea is Missha's Perfect Cover with its market share of 10.8%.  Next in the list is Hanskin, followed by Skin79, The Face Shop, and Mamonde.
Price Comparison
Let's try to compare the prices of the top BB Cream brands in Korea.  Take a look at the following:
Missha's Perfect Cover: $29.99
Hanskin Magic BB Night Cream: $40.00
Skin79 Upgrade Pink Super Plus BB Cream: $16.00
The Face Shop Clean Face Oil Free BB Cream: $21.00
Amore Pacific Mamonde Total Solution Mineral Moisture BB Cream: $29.00
There you see the list of known BB cream brands.  You can also try others like Skinfood. Now that there are a lot of manufacturers, suppliers, and companies of BB cream, it is really hard to decide which brand you should trust.  The best thing that you need to do is to look into the active ingredients of each brand and you have to examine the specifications, too until you find the best guide in using the product.  In addition, you have to read the manual first before applying it.
You might also like